New Book Tackles Adultery Head-On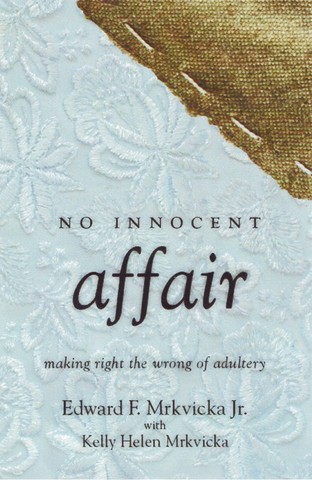 "No Innocent Affair: Making Right the Wrong of Adultery" is being hailed by critics as a blessing to all who read it.
The author,
Edward F. Mrkvicka, Jr.
, is a lay minister and counselor, and life-long Bible student. His religious writings have been awarded Best Christian Book of the Year, Best Christian Study of the Year, named a National Best Book Awards finalist, and a winner in the Christian Choice Book Awards. He has also been awarded the prestigious Faith Writers Seal of Approval. His efforts on behalf of families, the understanding of adultery, and the devastating effect of divorce on children has earned him a United States Certificate of Special Congressional Recognition "in recognition of outstanding and invaluable service to the community."
Christian Book Reviews states: "This subject is not an easy subject to be discussed, nor is it very popular, but with so many on the path to destruction in our society it is a must read for anyone entangled in or contemplating adultery. This fascinating and well-written book exposes the truth and deception in the sin of adultery and brings forth light to the subject. Thankfully, the author ends that there is hope and states, 'God can save us.' For there is one hope, and that one hope is the forgiveness of sins through Jesus Christ. Come, read, know the truth and be set free."
Noted reviewer Brian Knight writes: "This painful and devastating topic is laid bare before our eyes through the use of examples, personal insight and Scripture. The author makes no apologies for the awesome truth that is exposed within the pages of this book but these are truths that all believers and nonbelievers must hear, know and understand. If you've ever considered or have had an affair I strongly recommend 'No Innocent Affair.'"
From The US Review of Books: "Mrkvicka draws on several real-life examples from his experience as both a lay preacher and a counselor, to illustrate the decisions and consequences of those who have forsaken the sanctity of their marriage for an adulterous relationship. But rather than judge these people or impose upon them his own personal opinions, the author references the Word of God to not only highlight the sin of adultery, but also to signpost the road to true repentance."
Mrkvicka says: "I am humbled by the positive response to my book devoted to a subject few want to openly talk about, even some clergy. But we have no choice - adultery is killing marriages and doing untold damage to the children who eventually become victims of the ensuing divorce. No one wins when we betray the very people we say we love — and that includes the adulterer, albeit for different reasons. But there is an answer. We can resist temptation and recover if we've already cheated. That's what my book is all about — exposing adultery for what it really is, and then offering a spiritual cure."
No Innocent Affair is available at bookstores and on
Amazon.com
.
Email Reliance Enterprises, Inc.