Micromachining Leader Potomac Photonics Adds New Capabilities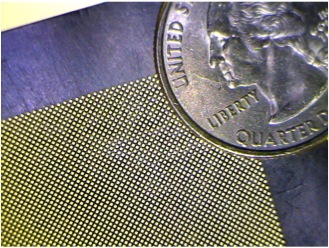 Lanham, MD, November 29, 2011: Micromachining leader, Potomac Photonics, has responded to booming demand by significantly expanding its
microholes
drilling capabilities and operations. The innovative micromanufacturer has added several new
precision laser cutting
systems (from UV to IR wavelengths) for applications including catheter hole drilling, precision alignment of optical fibers, probe card devices and leak test holes. Potomac has also added a new Micro-CNC system that can mechanically drill holes as small as 100microns. The additions provide a complete solution for
precision micromanufacturing
.
In addition to hardware, Potomac has developed new processes to create precision holes in a wide range of materials at varying thicknesses. In one project, Potomac drilled thousands of holes as small as 4 microns through 150-micron thick stainless steel. In another breakthrough, microholes as small as 25 microns were drilled through 1mm thickness Tantalum. State-of-the-art Aerotech motion control systems calibrated to NIST traceable standards means feature-to-feature positional accuracies can be held to submicron levels.
The expansion allows shorter lead times with some projects completed in less than 24 hours and most within 48-72 hours.
"Potomac now drills millions of holes per day for a broad range of industries including medical, biotech, semiconductor, optical, and automotive," said Mike Davis, Director of Operations at Potomac Photonics.
"The ability to drill highly precise microholes is critical for the development of many new products and devices and we are committed to being at the forefront of this technology," adds Greg Behrmann, CTO at Potomac.
About Potomac Photonics
Potomac Photonics is a leader in
microfabrication
. For more than three decades, it has helped clients develop
miniature products
and bring them to market with contact services spanning prototyping to production. Utilizing cutting-edge manufacturing technology, Potomac is recognized by both commercial and government agencies for innovation in areas such as medical device manufacturing and
electronics fabrication
. Potomac's high-tech facility, located in Lanham, MD, is ISO 9001:2008 and ISO 13485:2003 certified. Visit
http://www.potomac-laser.com