Gold De Royale Launches PAMP Silver Bullion Lunar Dragon Bars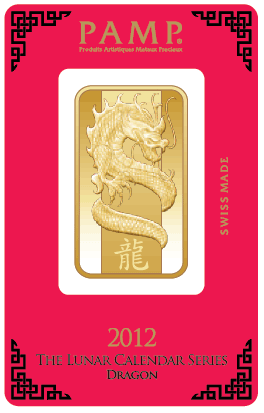 Australia's most prominent Swiss gold and silver bullion dealer has launched the most anticipated PAMP Lunar Dragon Gold and Silver bullion series for precious metal investors.
The Lunar Dragon bullion bars
are created by PAMP of Switzerland, celebrating the 2012 Chinese New Year.
"We are indeed privileged to sell these beautiful ingots produced by PAMP Suisse in Australia", said George Vo, Sales Manager of Gold De Royale.
Swiss craftsmanship is one of the best in the world and the design concept and the artistic impression for these Lunar Dragon ingots were the work of Douglas Brown and Sabrina Luoni.
China is the world's second largest consumer of gold. Gold is seen as an integral part of the Chinese heritage and investment portfolio. As Australia has a large Chinese population, these gold and silver Lunar Dragon ingots will make an ideal gift that they can give to their family members.
As per Chinese traditions, the year 2012 is the Year of the Dragon, which begins on January 23, 2012, and ends on February 09, 2013. The Dragon is the fifth sign of the Chinese Zodiac, which consists of 12 animal signs. In ancient China, the celestial dragon represents an emperor and power.
"Investors only want to buy the best that money can buy. At Gold De Royale, we always ensure that investors get good value for their money. That is one of the primary reasons why we sell PAMP Suisse products", said Mr George.
PAMP is the world's most prestigious Swiss refiner and an approved Good Delivery Referee of the London Bullion Market Association (LBMA). It is one of only three refineries in the world that has the LBMA accreditation of a Good Delivery Referee.
PAMP was established as a family owned and operated business, as most Swiss businesses were in 1977. In 1981, they were acquired by MKS. The MKS group specializes in all aspects of precious metals trading. The group has an office in Sydney, Australia, which is MKS Capital.
The PAMP Lunar Dragon Gold and Silver bullion comes in various sizes of 5 grams, 1 ounce and 100 grams with its own assay certificate.
For more information about the Lunar Dragon gold and silver series, please visit our website at
http://www.goldderoyale.com.au
Email Gold De Royale Pty Ltd