LeatherTVBeds.co.uk - New Television Beds for Winter 2011/12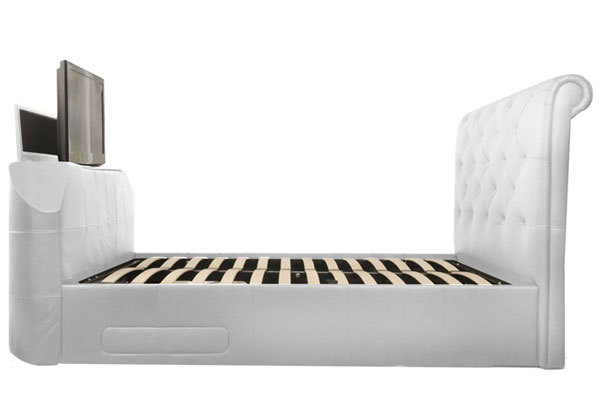 LeatherTVBeds.co.uk is back and better than ever! After talking to customers and finding out what they want in their furniture, the company has come back with a brand new line of
TV beds
designed for every decor. Starting at just £349, these beds come in every size and shape and enhance any decor, all at affordable prices.
This new line shows that LeatherTVBeds.co.uk is back on top of their game. According to Customer Service Manager Gene Ritchie, the new designs fit any modern, retro, or eclectic decor and provide high-tech entertainment at the same time. "Customers who demand style and top quality will find both in our range of TV beds," he said.
Not only do TV beds provide a place to sleep, but their footboards can hold a flat screen TV plus corresponding electronics. A lift raises the TV by remote control, allowing the users to enjoy TV in bed. When the TV is lowered into the footboard, it's out of sight and safe from burglars, falling objects, and other potential hazards.
It's an ideal solution for people who like to watch TV in bed. Entertainment centres that go into the living room are often too large for the bedroom, and their designs, while attractive, clash with the bedroom decor. A TV bed solves both of these problems. It creates a comfortable place to sleep and watch TV, and it holds electronics in a convenient place - all without detracting from the rest of the room.
LeatherTVBeds.co.uk is the best place to find these unique beds. Their beds are designed with both wood and leather in an ultra modern style. Buyers can choose a headboard with buttons to fit a classic motif, or one with a slight flare at the top that resembles a sleigh bed. Beds also come in a wide range of colours, including black, brown and
white television beds
. Select from a range of sizes including double, king size & super king size beds.
LeatherTVBeds.co.uk is dedicated to finding and serving new nationwide by utilizing ecommerce, social media, and online marketing to engage with existing and potential customers.
Mr. Ritchie went on to say "Shopping for a leather TV bed is easier and more economical than ever, and we're happy to serve our customers wherever they are. Adhering to high standards of quality and service has allowed us to create a presence our customers recognize."
Launched in 2011,
http://LeatherTVBeds.co.uk
is a family run company that specialises in luxury leather beds with built in storage for televisions.