Location Intelligence & Geomarketing Software Provider Opens Office in United States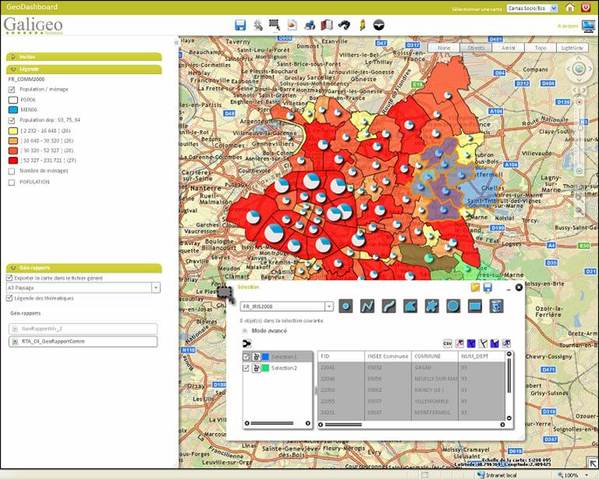 December 9, 2011 - Since 2001,
Galigeo
has been providing value-added software solutions in location intelligence & geomarketing. By combining geographical dimensions with existing data from business intelligence applications, Galigeo's location intelligence software has helped companies gain critical insights from existing company data. Their new stateside presence will position Galigeo to better analyze their customer's needs, design better location intelligence solutions, and consult with clients in a more direct manner.
By harnessing information already within Business Intelligence (BI), Customer Relationship Management (CRM), Supply Chain Management (SCM), and Enterprise Resource Planning (ERP) applications, Galigeo has been able to expose trends and relationships from a geographic perspective. Whereas existing systems might already be managing, analyzing, and visualizing large amounts of business data, they are not adding the "where" factor into their analysis.
Galigeo's offering takes location into context and reveals spatial relationships, trends, dependencies, and patterns that would have otherwise gone undetected in traditional enterprise applications. Their innovative location intelligence solutions and unique expertise have helped companies improve in the areas of Sales Territory Management, Trade Areas Analysis, Resource Allocation, and Network Monitoring.
Some of the world's largest companies and governmental organizations in the world have trusted Galigeo to enhance themselves in these given areas. Arcelor-Mittal, Areva, Autodesk, Carrefour, the European Commission, Geodis, Lafarge, Novartis, Orange, Total, Sodexo, the State of Geneva, the State of Illinois, the State of New Jersey, the Swiss Confederation, and Vinci have all sought Galigeo's expertise.
"At Galigeo the focus is always on helping clients make good use of existing business intelligence data. Our strategic partnerships with SAP BusinessObjects, IBM Cognos, ESRI, NAVTEQ, and Microsoft have strengthened our ability to help our clients achieve superior performance. We hope that the new opening of our US office will help us to continue serving more businesses in any of their geomarketing endeavors."
About Galigeo: Since 2001, Galigeo has been paving the way in location intelligence and geomarketing. By combining geographic data with other business data residing in business intelligence applications, Galigeo enables organizations to gain critical insights, make better decisions, optimize business processes, and enhance existing applications. For more information about Galigeo, please visit
www.galigeo.com
or call 917-267-7675.