The Event Team's Matt Robbins honored at San Diego Business Journal's Most Admired CEO Awards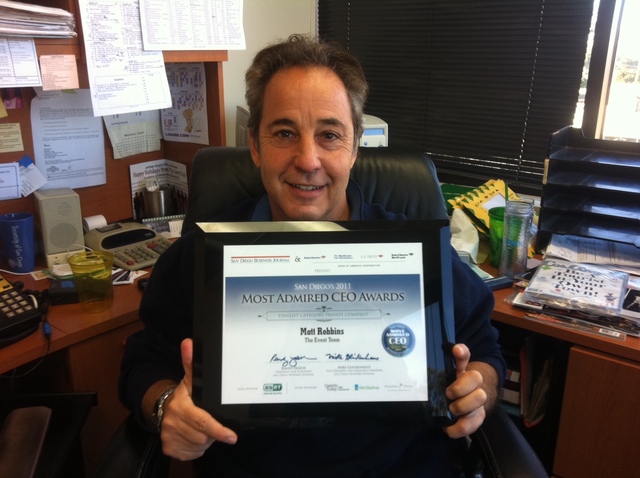 Matt Robbins, President and CEO of
The Event Team
was honored as a finalist at Thursday night's Most Admired CEO Awards, hosted by the San Diego Business Journal at Paradise Point Resort in San Diego, CA. This comes on the heels of many other achievements for the year. The Event Team was also named one of SDBJ's "Healthiest Companies," and the company's Director of Sales and Marketing, Lindsay White, was recognized as one of SDBJ's "Women Who Mean Business" last month.
"Robbins has helped his company become known as the outside-of-the-box destination management company with The Event Team's online presence being significantly expanded. He's widely respected and admired among peers in the industry. He is a past president for San Diego MPI and he currently serves on the executive board for the San Diego Convention & Visitors Bureau"
– San Diego Business Journal: December 5, 2011 issue.
Matt Robbins has been President and CEO of The Event Team since its inception twenty years ago. The Event Team (in partnership with Hosts Global Alliance) is a full service Destination Management Company, helping clients throughout Southern California with all of their meeting, transportation, tour, teambuilding and special event needs.