Dr. Raymond Stein Discusses LASIK on the Marilyn Denis Show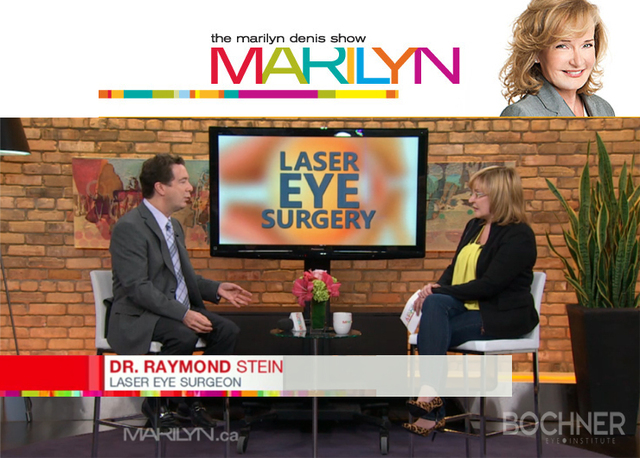 Dr. Raymond Stein
of the Bochner Eye Institute recently appeared on the Marilyn Denis Show to talk about LASIK laser vision correction. He was asked to come on the program a few weeks after performing LASIK surgery on the show's audience coordinator, Leanne. The episode aired on CTV and was broadcast across Canada.
During the segment, Dr. Stein explained the LASIK procedure from start to finish. He identified suitable LASIK candidates, reviewed the pre-operative tests and preparations and then explained each step of the surgery, potential complications and the latest technological advances which are making LASIK safer, more comfortable and more successful for
Toronto LASIK
patients.
Leanne, who opted for all-laser LASIK, talked about how the surgery corrected her nearsightedness and astigmatism, thus eliminating her dependence on eyeglasses and improving her quality of life. The most surprising part of the experience, she said, was how quickly she recovered from surgery and how much her vision had improved when she woke up the next morning.
According to Dr. Stein, 95 percent of candidates qualify for LASIK surgery. The surgery, which can correct nearsightedness, farsightedness and/or astigmatism, is a three-step process. First, a small flap is made in the cornea. Next, a laser beam is used to reshape the corneal tissue, thereby correcting most refractive errors. After the tissue has been appropriately modified, the flap is returned to its original position, where it protects the eye during the healing process.
More About the Bochner Eye Institute
Drs. Harold Stein, Albert Cheskes and Jordan Cheskes join Dr. Raymond Stein at the Bochner Eye Institute, with three state-of-the-art practices located in Toronto, Scarborough and Unionville, Ontario. Founded in 1929, the Bochner Eye Institute offers LASIK,
PRK
, RLE, implantable contact lenses and
treatment for keratoconus
. All four surgeons graduated from the Mayo Graduate School of Medicine and are well-trained in all aspects of laser eye surgery. Bochner Eye Institute features the latest laser technology for improved patient safety and comfort.
Please contact the Bochner Eye Institute today at (416) 960-2020 to learn more about laser eye surgery or visit their website at
www.bochner.com
.
Email Bochner Eye Institute