2011's HP TouchPad Saga is "Tablet News Story Of The Year"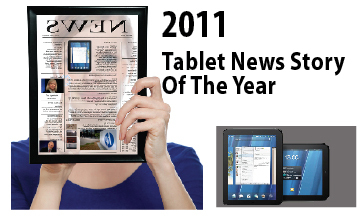 This year's wild, epic tale of the HP TouchPad Tablet is 2011's Tablet News Story Of The Year, according to the site
NewTabletsNews.com
.
The site's most recent post: "
Tablet News Story Of The Year: The HP TouchPad Saga
", details the 6-month drama that began when HP abruptly discontinued its 49-day-old TouchPad Tablet and began selling the new tablets for only a small fraction of their original price. The resulting speculation and analysis among the tech community, combined with reports of the public's frenzy in buying up the discounted new tablets, kept bloggers and tech reporters very busy.
Supporting the site's Tablet News Story Of The Year posting is a separate infographic, entitled:
The TouchPad Effect (Or, The Tale Of The Zombie Tablet)
that provides interesting text and graphic overviews of a number of the events detailed in the main story.
NewTabletsNews.com is a brand-new site, developed and launched by tablet pc enthusiasts to provide a comprehensive source for the latest news, reviews an analysis for enthusiasts, owners and vendors of tablet pcs.