SES Government Solutions to be Featured on Upcoming Episode of Business Update for CNBC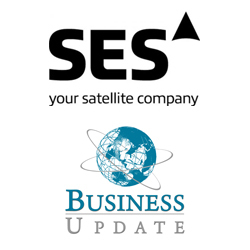 SES Government Solutions to be featured in an upcoming episode of Business Update.
With 49 satellites currently in orbit, SES Government solutions is a leading global commercial satellite operator and is focused exclusively on meeting the satellite needs of the U.S. Government. SES is currently the second largest fleet operator in the world, and has one of the most aggressive launch schedules in the industry. With eight additional launches over the next two years, SES is positioned to serve their customers today, and meet their growing needs into the future.
This episode of Business Update will highlight the satellite industry, and show viewers just how much the world relies on information from satellites in orbit.
Tip Osterthaler, President and CEO of SES Government Solutions remarked, "Our number one objective as an organization is to provide essential communications capabilities to the men and women of the armed forces as well as federal civilian agencies. We are committed to doing just that."
"The applications for satellite technology are endless. I am excited for viewers to see just how much SES Government Solutions has to offer to the US government and its armed forces," said Vince Moss, producer of Business Update.
About Business Update:
Business Update is a corporate-America type series covering the world of business, finance and technology. From Main Street to Wall Street, our award-winning producers take an in-depth look into some of the hottest topics and current trends impacting our society.
For more information visit:
www.dmgproductions.org
or call (866) 496-4065.
About SES Government Solutions:
SES Government Solutions, a subsidiary of global satellite operator SES, is exclusively focused on meeting the satellite communications needs of the U.S. Government. Leveraging more than three decades of experience in the government SATCOM market, SES Government Solutions offers robust and secure satellite-based communications solutions. Supported by SES's fleet of 49 satellites offering comprehensive global coverage, SES Government Solutions offers highly reliable fixed and on-the-move capacity.
For more information, visit:
www.ses-gs.com
or call 703-610-1000.
Email SES Government Solutions