DMG Productions to Feature Tampa-Yacht on Upcoming Episode of Business Update for CNBC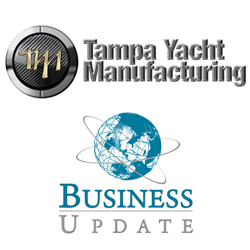 When discussing the global war on terror, coastal defense is an often overlooked topic. This is not the case for Bob Stevens and Tampa Yacht. With an exciting line of high speed "luxury yachts" equipped with the most advanced weaponry and navigation systems available, Tampa Yacht is revolutionizing the way that countries defend their coasts.
This episode of Business Update will highlight the innovations made by Tampa Yacht, and the impact that they are having in the global war on terror.
The dramatic rise in use by terrorist of asymmetric warfare represents a new and emerging worldwide threat. Into this environment, Tampa Yacht Manufacturing LLC is providing complete coastal defense solutions with custom configured proven defense craft. The features found in all of Tampa Yacht Manufacturing patrol craft combine to form capabilities that are faster, better maneuvering, better equipped, better armed, and fitted with sensors that allow undetected surveillance from over the horizon, and fully protect the occupants from enemy fire. The terrorist craft are no match for the new breed of coastal defense assets.
"Tampa Yacht Manufacturing LLC is grateful for the opportunity that Business Update has provided to highlight the hard working defenders of freedom that ours and companies like ours quietly provide each day," said Bob Stevens, owner of Tampa Yacht Manufacturing.
"Tampa Yacht Manufacturing is really making waves in the industry. The advancements that they are making in coastal defense is like nothing that I have ever seen before," said Vince Moss, producer for the series.
About Business Update:
Business Update is a corporate-America type series covering the world of business, finance and technology. From Main Street to Wall Street, our award-winning producers take an in-depth look into some of the hottest topics and current trends impacting our society.
For more information visit:
www.dmgproductions.org
or call (866) 496-4065.
About Tampa Yacht Manufacturing:
Incorporated in 2006 Tampa Yacht Manufacturing LLC is dedicated to providing each and every customer with the safest, most technologically advanced high performance military and commercial craft on the water. With high speed performance and maneuverability, compatibility with an array of high tech weaponry and navionics, and the safety of advanced ballistic protection, our boats are purpose-built high-tech tools for protecting the world's coastlines.
For more information, visit:
www.tampa-yacht.com
or call 727-954-3435.
Email Tampa Yacht Manufacturing LLC