Havahart® Reaches Goal of Raising $2,500 for American Humane Association through the "Help Havahart® Give Back!" Initiative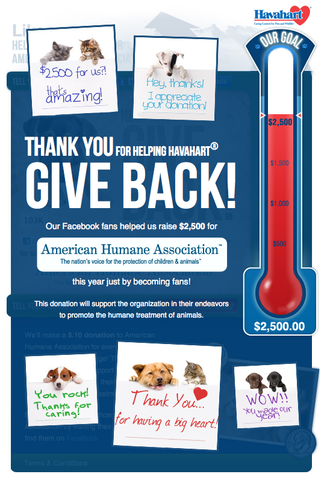 LITITZ,PA – December 23, 2011 – Havahart® announced today they have reached their goal of raising $2,500 for American Humane Association through their "Help Havahart® Give Back" Facebook initiative.
With this charitable initiative, Havahart® pledged to donate $.10 to American Humane Association for each "like" received on the Havahart® Facebook page (
http://www.facebook.com/havahartbrand
). Today, the goal of raising $2,500 has been reached, and Havahart® is sending American Humane Association their donation.
Launched on April 5, 2011, the initiative not only raised money for American Humane Association, but also increased awareness for the humane treatment of animals. A total of 25,000 people showed their support by becoming Facebook fans since it launched, declaring their interest in caring animal control solutions which are offered by Havahart® and align with American Humane Association's core mission.
"Not only are we excited to be able to give a donation to such a beneficial organization on behalf of our Facebook fans," Stephanie Vansyckle, Category Development Manager for Havahart® said. "This initiative also allowed us to reach out to people who care for animals to join our growing Facebook community, where we enjoy interacting with them on a daily basis."
"We are so grateful to Havahart® and this campaign to urge people to have a heart when it comes to helping the most vulnerable among us," Robin Ganzert, president and CEO for the 135-year-old American Humane Association said. "Over just the past few years, we have protected millions of animals and children from abuse, neglect and cruelty. This effort will help us take our humanitarian mission to many more in need. Thank you!"
Havahart® looks forward to the new year with plans to launch additional initiatives that help give back to the community and support the humane treatment of animals. "We couldn't have done it without our Facebook community and we'd like to thank our fans for getting involved and showing their support," Vansyckle added. "We look forward to additional opportunities to partner with our many Facebook fans to help support other notable organizations in the animal community!"
###
About Havahart®
Havahart® is a leading manufacturer of caring control products for wildlife. By offering humane animal control products, such as animal repellents and live animal traps, Havahart® provides caring control for wildlife.
Havahart® is a registered trademark of Woodstream Corporation, a long-standing, privately-held company and leading manufacturer of quality-branded rodent control products, caring control products for pets and wildlife, natural solutions for lawns and gardens and wild bird feeding products.
About American Humane Association:
Since 1877, American Humane Association has been at the forefront of virtually every major advance in protecting children, pets and farm animals from cruelty, abuse and neglect. Today we're also leading the way in understanding the human-animal bond and its role in therapy, medicine and society. American Humane Association reaches millions of people every day through groundbreaking research, education, training and services that span a wide network of organizations, agencies and businesses. You can help make a difference, too. Visit American Humane Association at
www.americanhumane.org
today.