LOOKING UNDER THE HOOD AT HOME:THE NEXT INNOVATIVE HOME PURCHASE THAT REALLY MATTERS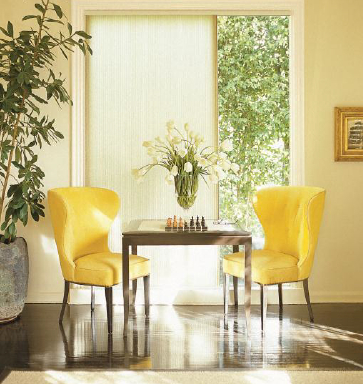 PEARL RIVER, N.Y. – Cars are so sophisticated these days. While in years past simpler models would simply get you from point A to B, these days they offer a truckload of added benefits and options. When it comes to purchasing, there are considerations of form – the color of the car and fabric of the interior – and function – the type of engine and fuel efficiency. Why not bring the same high performance to the home by upgrading an item that is surprisingly just as innovative and beneficial –the window treatments? Try the nation's leading name in custom window fashions,
Hunter Douglas
. Its products combine form and function to create window fashions of exceptional design. Here is a quick overview on how to choose the right window fashions, to make sure you get all the bells and whistles at the window.
Function
Convenience Just as car seats effortlessly adjust by the press of a button, so too should your window fashions, especially when windows are very large or out of easy reach. Try motorized window treatments such as Hunter Douglas PowerRise® 2.0 with Platinum™ Technology battery-powered remote control products. They're not only easy to use but affordable. They can also be integrated into most home automation systems.
Energy Efficiency
Get the hybrid of window treatments. Hunter Douglas Duette® Architella® honeycomb shades provide significant energy savings. They offer superior energy efficiency due to their patented cell-within-a-cell design that traps air before it enters the room. The shades can reduce heat loss through windows by up to 40 percent in the winter and reduce solar heat gain through windows by up to 80 percent in the summer, and with more than 180 beautiful fabric and color combinations, style isn't sacrificed in the name of energy efficiency.
Light
Too much speed isn't a good thing, and the same goes with light. While sunlight can illuminate a space, it also creates glare and gives off heat and harmful UV rays. Consider Silhouette® window shadings, with the Signature S-Vane™, which feature soft rotating fabric vanes between sheer panels for variable light control. Thanks to the sheers, the product provides superior protection from UV rays even when the vanes are open and letting in the view.
Moderated light, altered to suit a home's needs, is the ideal. Window fashions with rotating vanes or louvers can be used to direct light where it's needed most. Silhouette shadings work well for this, as do Pirouette® window shadings. Pirouette shadings feature adjustable vanes attached to a single sheer fabric backing that draws softly diffused light deeper into the room for a radiant space. For bedrooms, window treatments that provide maximum room-darkening are a good choice to ensure a solid night's sleep. Hunter Douglas has a lot of stylish options to address this need.
Noise
Leave the noise on the streets and invest in insulating window fashions such as Vignette® Tiered™ Architella® Shades. Their innovative design has rear fabric air pockets that trap more air to provide superior energy efficiency and substantial sound absorption for a serene home.
Privacy
The home should be a private refuge from the outside world, while not necessarily a dark cocoon blocked from natural light. Opt for window fashions that provide privacy and a view. Silhouette and Pirouette window shadings offer a combination of sheer fabric to maintain a view of the outside along with fabric vanes for variable light control and privacy both during the day and into the night. Luminette® Privacy Sheers is also a similar concept in a vertical orientation.
Safety
Just as in outfitting your car with the right car seats for the little ones, so too, does child safety need to be a factor when it comes to choosing window treatments. Help protect children and pets from the potential dangers of window covering cords with the Hunter Douglas LiteRise® cordless lifting system and Vignette Tiered Architella Shades without any exposed rear cords to tangle with.
Form
Color According to Nancy Lockhart, Color Marketing Manager for DuPont Vehicle Paint, white has been the most popular car color in recent years. Color is always an important consideration in any fashion purchase, and while white is also often chosen for window dressings, add a touch of color by selecting soft, light hues such as lemon yellow and sea foam green that expand a room. Additionally, coordinate the window fashions with the wall color, as low contrasts will keep the eye moving around the space. Reverse the technique to draw the eye to the window and make the window or room appear smaller and cozier by using dark, warm colors and high contrast between the window and the wall.
Pattern
Pattern, like color, can intensify on a larger surface. While an orange handbag can be tasteful, a car in a bright carrot-colored hue may not be. Hunter Douglas offers a range of tasteful patterned window fashions, including its Design Studio™ Roman Shades featuring a carefully edited, exclusive fabric and trim collection with custom quality craftsmanship and a simplified step-by-step ordering process along with quick delivery. Consumers can choose from 320 stripes, florals, damasks, sheers and solids that shimmer with richness and intriguing textures. Try it in the Seaside fabric featuring thin stripes of green, tan and crème or in the classic Museum damask fabric in gold French Horn for pattern without too much of a punch.
Proportion to Maximize What You Have
Just as you can feel larger in a SUV, so too can the type of window fashions expand and enhance the feel of a room. Window treatments should be considered within the overall scale of the interior to maintain proper proportions. With a smaller window, try extending the window treatment higher or wider to make it appear larger. For a window with interesting details, place the window dressing within the frame to keep it visible.
Texture
Texture is needed in every room, whether casual (rough, nubby or earthy) or formal (smooth, elegant fabrics) depending on one's style. To easily integrate texture into a space, add it at the window. Upload a photo of your room to the Hunter Douglas iMagine™ Design Center where you can view how the variety of products and textures look in your home to "test-drive" the vast collection of Hunter Douglas styles right on your own windows.
Customization
Forget Henry Ford saying you can have any color car, so long as it's black. These days you can get wheels entirely designed to your choosing. From the type of engine and breaks, to the look of the trim elements – fine wood, glossy, deep black piano lacquer, natural stone – there's nearly countless customization options to make your ride all your own. Fortunately, the same goes for window treatments. Hunter Douglas window coverings are custom-made to specifically fit each individual's taste, lifestyle and window. Offering more customization options than any other company in the category, Hunter Douglas provides a myriad of products, colors, fabrics, materials, and operating systems. Visit the Hunter Douglas iMagine™ Design Center, referenced above, where you can easily take a spin with various design options before heading to a qualified professional at a nearby dealer.
Just as with a major car purchase, with a little bit of planning when it comes to selecting window treatments, your home can be more beautiful, more energy-efficient, safer and all-around radiant.
Hunter Douglas, Inc. is a national sponsor of Habitat for Humanity, covering windows in every Habitat home built in the U.S. and Canada. Headquartered in Pearl River, N.Y., the company is the leading manufacturer of custom window fashions in North America. For more information, contact Hunter Douglas at 1-800-274-2985 or visit
www.hunterdouglas.com
.
CONTACT:
Sarah Fletcher/Kimberly Babcock
LOU HAMMOND & ASSOCIATES
1-800-742-3464; ext. 120, 121
sarahf@lhammond.com
Email Lou Hammond & Associates