Dog-friendly International Pedigree Stage Stop Sled Dog Race Mushes Out of Jackson Hole Wyoming with 22 Teams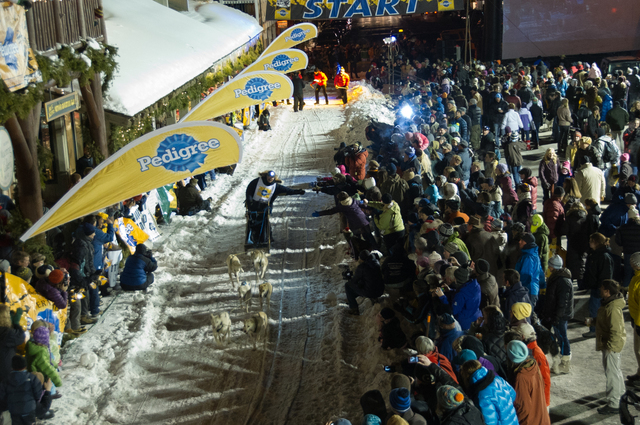 Jackson, Wyoming– Twenty-two excited sled dog teams will depart from the starting line in the Jackson, Wyo., Town Square on January 27 at the start of the 2012
International Pedigree Stage Stop Sled Dog Race
(IPSSSDR). The dog-friendly race – a perfect event for winter family travel to Jackson Hole – is the largest sled dog race in the lower 48 states. After the Jackson, WY start, the international roster of teams will continue to separate stages and fun race-related events in the Wyoming communities of Lander, Pinedale, Cora, Big Piney, Marbleton, Alpine, Evanston, and Mountain View, before finishing in Park City, Utah on February 4.
Festivities around the big race start include family-friendly and free Jackson Hole events like a live band and pig roast, a meet-the-mushers party at Snow King Resort sponsored by Pedigree® Food for Dogs, and a torchlight parade and fireworks on Snow King Mountain. Wyoming's small communities on the race route also host events to welcome mushers, dogs and race fans, including Dutch oven dinners, flapjack frenzies and musher mania events like snowshoe softball. Check the
race website
for a complete schedule.
With its unique stage stop format, the IPSSSDR has become a popular mushing event attracting the world's top competitors. Pedigree® Food for Dogs is the title sponsor of the IPSSSDR. The Pedigree® brand actively supports a wide range of programs that promote responsible pet ownership and highlight the contributions dogs make to society.
United, United Express, Delta, and American Airlines flights are available into Jackson, Wyoming for the January race start. For Jackson Hole hotel and lodging options, visit the Jackson Hole Chamber of Commerce online at
www.jacksonholechamber.com
or contact the Chamber at 307.733.3316 or
info@jacksonholechamber.com
.
About the Race
The International Pedigree Stage Stop Sled Dog Race was founded in 1996 by Frank Teasley to showcase the state of Wyoming and to make sled dog racing more accessible to the public. Each year the race makes a contribution to communities on the race route for childhood immunizations. For more information, visit the race website at
www.wyomingstagestop.org
contact the race at
bark@wyomingstagestop.org
or 307.734.1163. The race is also active on Facebook under International Pedigree Stage Stop and on Twitter at @IPSSSDR.
Email WordenGroup Public Relations