Heraeus Gold Bullion Kinebar launched by Gold De Royale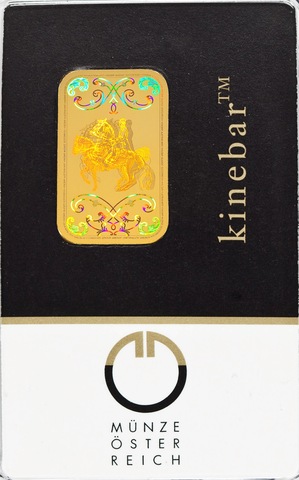 The most awaited Heraeus gold bullion kinebar has been launched in Australia by
Gold De Royale
, Australia's largest Swiss bullion dealer. Sales Manager George Vo said, "We are indeed privileged to sell the kinebar as it is extremely popular among gold investors due to its hologram."
When asked what makes the Argor Heraeus gold kinebar popular among precious metal investors, Mr George replied, "The gold bars come with the world-famous Lipizzaner of the Spanish Riding School in Vienna design. The position of the rider and horse changes according to the angle from which the design is viewed. The rider and horse design appears to jump." This is something that we usually do not see in any gold bars.
Argor Heraeus gold bars are extremely popular among investors because it is a refiner that exceeded refining standards in the precious metal industry. Argor Heraeus is one of only five refiners in the world accredited as a Good Delivery Referee by the London Bullion Market Association (LBMA). They were first in the world and still are the only refiner that uses the OVDKinegram AG technology on precious metals.
These gold bars are extremely popular among Asian buyers, because they provide new standards for authenticity and security in precious metal trade. In this age of smuggling and forgery, this invention was called the hallmark of precious metal trade. Indians, Chinese and Vietnamese are top buyers of the Argor Heraeus gold kinebar.
The Argor Heraeus gold bullion kinebars are refined to a purity of 999.9 investment grade. The Lipizzaner of the Spanish Riding School gold kinebar designs are available in size of 1 Gram, 5 Grams and 10 Grams.
For more information about Argor Heraeus Gold Kinebar bullion, please visit our website at
http://www.goldderoyale.com.au
Email Gold De Royale Pty Ltd