BluPointe Introduces First of its Kind Local and Remote Bootable Image Backup, Priced at $349 MSRP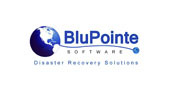 ATLANTA, Georgia, January 10, 2012 –
BluPointe DRS,
a leader in Cloud data protection, announced the launch of its new bare metal program with first-of-its-kind capability to perform a delta block on a bootable image.
This enhanced version of the
BluPointe Secure Cloud backup solution
is specifically designed to provide a range of new benefits to managed service providers (MSPs) and organizations looking to protect their critical business application data using Cloud technology.
BluPointe's Cloud-based technology allows resellers, service providers, and backup service providers to create a local bootable image of their customers' critical server; if that server fails for any reason, the customer can restore all data to an alternate computer (similar or dissimilar) using the same server or a virtual server, and be operational within a few minutes.
This newest innovation in the BluPointe Backup software provides for images to be moved offsite every day (only the changes at block lever are moved each day); when disaster strikes, the client has a full bootable image that can be restored either by Internet, disk or encrypted USB device in a few minutes at the customer's location, disaster recovery location, a service provider's location or the corporate office.
BluPointe's Cloud-based backup solution offers advanced security and data integrity, encrypted during transit (in flight and at rest), as well as in the user's data center. BluPointe's backup software is designed to provide zero data loss, fast restore (file or image), instant access from anywhere, full reporting and silent operation, with easy installation and exceptional security.
BluPointe's new software supports virtual environments like Hyper-V, VMware and XenServer and applications like SQL, Exchange (including 2010), Open File Backup, Oracle and SharePoint, and using the latest in vertical DeDupeTechnology™ to transmit and store only a fraction of what other image backup solutions transmit and store.
BluPointe frees users from the need to re-master or re-backup their full data, ever.
"There is nothing else like this available in Cloud technology" said BluePointe CEO Ron Roberts. "Full file level backup, plus image backup and restore in one package.
"Now businesses, their MSP's, service providers, resellers, and backup service providers no longer need to integrate two products from two different companies to protect files and images."
Roberts said no other backup company has accomplished this technical breakthrough, moving only the delta blocks of changed bootable images to a secure backup location, while being able to restore P2P, P2V, V2V or V2P and back in a few minutes.
BluPointe's newest product works in conjunction with BluPointe's remote backup product and is exclusive to BluPointe resellers, service providers and backup partners. Priced competitively at $349 MSRP per server (or only $15.00 per month per server), this long-awaited program is more efficient and cost-saving than anything before it.
"This does what the $1,000 programs do to protect your servers and recover from a disaster," Roberts said.
"They do it locally, while BluPointe performs local image backup and recovery from USB, NAS, BDR device or a physical server (using similar or dissimilar hardware), and/or remotely in minutes, for a fraction of the price."
About BluPointe:
BluPointe is complete network-based data protection software for the Cloud and remote office/branch office (ROBO) marketplace.
BluPointe data protection
provides companies and their customers with a complete data protection solution, coupling advanced features like easy installation, powerful administration, and scalability. The result is cost-effective data protection. As part of its corporate mission, BluPointe strives to be the leading provider of Cloud based remote office/branch office backup and recovery software for the global marketplace.
For more information about BluPointe and its products, visit the
BluPointe website
or call 404.252-7626.
To find out more about Blupointe channel partners, managed service providers (MSPs) and resellers, Blupointe Cloud-based backup, or to become a BluPointe Cloud provider, Email
reseller@blupointe.com
.