SECOM Twitter Competition: Hundreds of Personal Security Alarms to Give Away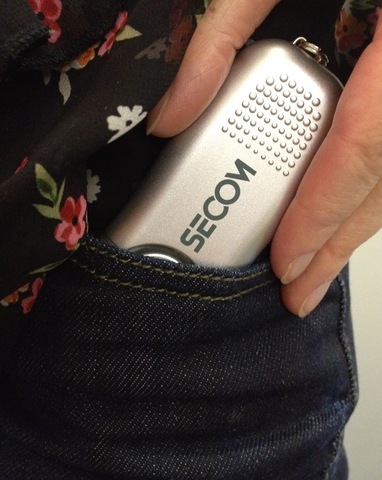 SECOM plc, a worldwide provider of security solutions is announcing their latest competition and will be giving away hundreds of personal security alarms through social network Twitter until 16th February 2012
Personal security is becoming an increasingly prominent issue within the UK and with the dark nights continuing over the coming months, personal alarms can be viewed as a valuable security tool. Personal security alarms can help protect the carrier against muggings, street robberies and serious assaults by producing a high volume siren, just at the right time. They are widely recommended by police officials and security advisors as a way for both men and women to stay safe when walking the streets late at night.
A personal security alarm means that the carrier does not have to engage with their potential attacker and can attract the attention of passersby with a simply pull on the ripcord and pin. The SECOM personal security alarms feature a 130 decibel siren, an easy to pull ripcord activation, a handy torch, key ring attachment and include batteries so it is ready to go out of the box.
The SECOM
personal security alarm competition
is open to UK, Channel Islands and Isle Man residents only. To be eligible for inclusion in the prize draw all entrants must do is follow the official SECOM twitter account
@SECOMPlc
and tweet one of the Personal Crime Fact and Safety Tips at
http://www.secom.plc.uk/about-secom/competition
As well as giving away 25 SECOM safety alarms, SECOM are encouraging Twitter users to tweet the personal crime facts and safety hints over the coming weeks to help raise awareness of personal security. If you would like to enter the competition please visit
www.secom.plc.uk
, follow
@SECOMPlc
and start tweeting.
SECOM plc is a global security system provider that operates from almost 1500 locations. It employs in excess of 48,000 people, has over 2 million customers and generates an annual turnover of £6 billion.