Streeper Defends IPSSSDR Title as 22 Sled Dog Teams Compete for Wyoming Sled Dog Race Purse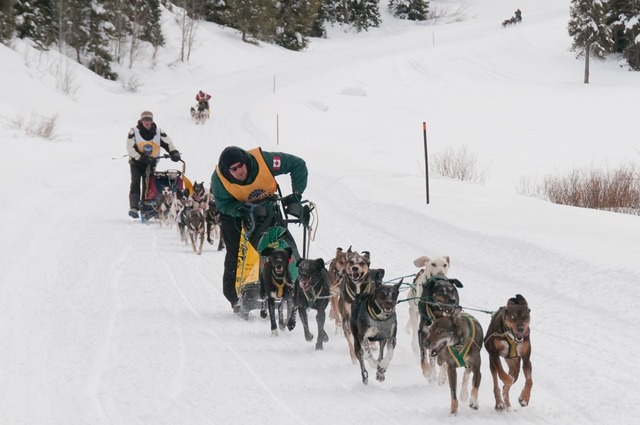 Jackson, Wyoming – January 12, 2012 – Blayne "Buddy" Streeper, from Fort Nelson, British Columbia, Canada returns to the Jackson Hole, Wyo. start of the 2012
International Pedigree Stage Stop Sled Dog Race
(IPSSSDR) to defend his 2011 IPSSSDR first place title. Streeper, age 29, has won the race in 2004, 2010 and 2011. The IPSSSDR, the largest sled dog race in the lower 48 states, is slated for January 27 – February 4, 2012. Now in its 17th year, the race starts in Jackson, Wyo. and travels through small Wyoming communities before finishing in Park City, Utah.
"The other teams coming to Wyoming have their eyes on the prize so this will be an exciting competition," says Director Frank Teasley. "I anticipate that we'll see a very close race this year." Teasley goes on to note that this year's roster includes teams from eight U.S. states, four Canadian provinces and Scotland. "The youngest racer is 14 years old and the most seasoned musher is 60," he says. In more 2012 statistics, three of the teams are being driven by women and nine of the 22 mushers are IPSSSDR rookies.
With its unique stage stop format, the IPSSSDR has become a popular mushing event attracting the world's top competitors. Pedigree® Food for Dogs is the title sponsor of the IPSSSDR. The Pedigree® brand actively supports a wide range of programs that promote responsible pet ownership and highlight the contributions dogs make to society.
The International Pedigree Stage Stop Sled Dog Race was founded in 1996 by Frank Teasley to make sled dog racing more accessible to the public. For more information, visit the race website at
www.wyomingstagestop.org
or contact the race at (307) 734-1163 or
news@wyomingstagestop.org
.
Email WordenGroup Strategic Public Relations