JOINFOIL.ORG SURRENDER TO HIGH GAS PRICES IN FRONT OF THE GAS PUMP?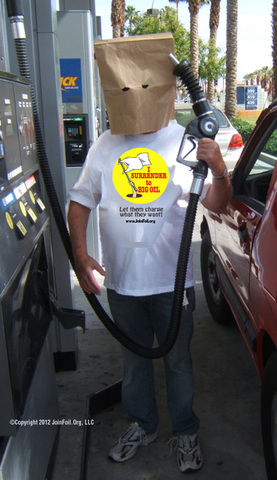 You don't have to read the news to know that gasoline prices are going through the roof.
FOIL
, the Foreign Oil Independence League, has been rallying Americans to take our country back from the greedy and dangerous Big oil interests.
Not everyone has gotten the message connecting the buying of Congress by Big oil, foreign oil, terrorism and pipeline politics.
So FOIL has created a new reverse psychology T-shirt — a white flag "I surrender to Big Oil. Let them charge what they want."
If you're content to pay upwards of $4 or more a gallon to tank up, get a surrender T-shirt, and let everyone know you willing to admit your non-action to contact your representative in Congress.
If you've yielded to the Big oil companies who scream poormouth while racking up obscene profits at your expense, let the world know. Get the T-shirt. Wear it proudly - or ignominiously.
Let anyone who cares know that you don't care.
The T-shirt will tell the world you've given up, not only to big oil, but also to the desert-dwelling petro-terrorists who've been holding America hostage for years.
Surrender has never been an option for most Americans.
The answer to America¹s energy problems requires brainwork and creativity. It lies in the development and increasing use of alternative fuels that originate in the USA, are processed and marketed here, using American labor that stays right here in the United States and cannot be outsourced.
That means switching to and increasing domestic offshore drilling and made-in-the-USA; biomass, solar, wind and other renewable energy sources.
It's a solution you won't hear from Big Oil, Big Corporations and Big Politicians.
So, if you don't want to wear this T-shirt you can start to fight for oil independence with a push to develop U.S. Produced OIl and other fuels.
On the other hand, if you choose to be a Pump Patriot there is a downloadable "Inquiry" you can send to your Congressperson that ask for answer to questions concerning high gas prices.
http://www.joinfoil.org/thepumppatriotinquiry.html
It¹s your decision. When you make up your mind, let me know what you think
stan@joinfoil.org
.
Email Foreign Oil Independence League