Beverly Hills Cosmetic Dentist Dr. David S. Frey Expands Online Presence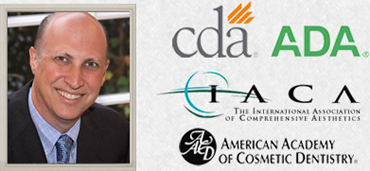 Dr.
David S. Frey, DDS
is excited to announce the launch of his cosmetic dentistry website, perfectwhitesmile.com. The engaging new website features valuable information on the advanced cosmetic and restorative dentistry procedures offered at Dr. Frey's
Beverly Hills cosmetic dentistry
practice. Dr. Frey believes that quality dental care doesn't just take place in the office chair, but extends outside of the office. He is confident that the information found on his new website will help patients understand the variety of treatment options that he offers, including treatments for
Beverly Hills dental implants
,
TMJ
and full
smile makeover
patients.
In addition to accessing the site for information on specific procedures, patients can view before and after photos, browse videos of Dr. Frey's media appearances, and read testimonials from former patients. The site also allows potential patients to get to know Dr. Frey, and features information on his extensive training and formal education. Finally, the website allows patients to interact directly with Dr. Frey by uploading photos and descriptions of their dental conditions. With this technology, Dr. Frey can review emails and photos, and recommend preliminary treatment plans.
About Dr. David S. Frey
David S. Frey, DDS is an accomplished Beverly Hills cosmetic dentist, providing superlative dental care to patients who wish to enhance the health and appearance of their smile. Dr. Frey received his formal education at the University of Pacific, School of Dentistry and the Las Vegas Institute for Advanced Dental Studies. His approach to cosmetic dentistry and his treatment results have been revered by his peers. He is often recognized as one of the nation's top cosmetic dentistry professionals.
Dr. Frey is pleased to offer a range of dental treatments to help patients achieve the smiles they have always wanted. His Beverly Hills dental practice utilizes the latest technology, including laser dentistry techniques and 3D imaging to produce stunning results in a safe, convenient, and comfortable manner. If you are interested in learning more about the procedures offered by Dr. Frey, visit
http://www.perfectwhitesmile.com
, or contact him at 310-276-4537.