Cricket Announces Mac Miller as the January Muve First Featured Artist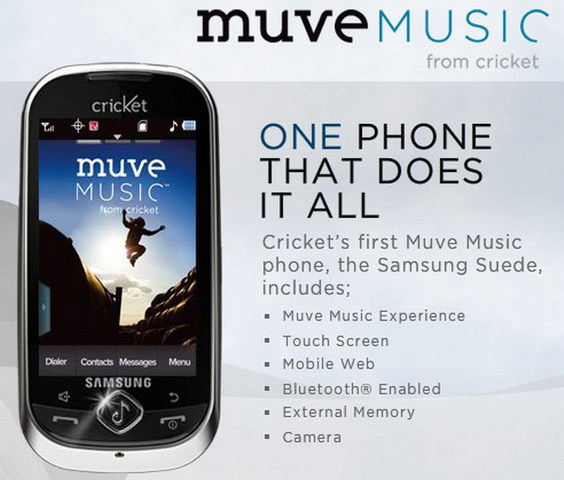 SAN DIEGO, Jan. 20, 2012 — Cricket Communications, a leading provider of innovative and value-driven wireless services, today announced exclusive Muve Music content with the release of the January Muve First artist, Mac Miller. In the month of January, Muve Music from Cricket is pleased to showcase Muve First feature artist Mac Miller as part of its ongoing monthly Muve Music artist programs.
Malcolm "Mac Miller" McCormick is collaborating with Muve Music to celebrate his album, "Blue Slide Park". Beginning January 17th, Muve Music had an exclusive Mixtape track that will be added to Miller's huge debut release titled "Blue Slide Park". In a blossoming hip-hop hotbed of talent, Miller is next up out of Pittsburgh, PA. 2011 showcased Mac's selling potential as his debut Rostrum EP, "On and On and Beyond," sold over 75,000 copies digitally alone. Mac is the first independent artist since 1995 to debut atop the Billboard Charts with "Blue Slide Park," and has also sold more than 1.5 million singles total with little to no radio airplay. As of January 2012, "Blue Slide Park" had sold almost 250,000 copies. Look for Mac Miller to be the new face of music in 2012 on Muve Music. Follow Mac Miller through a series of social media blasts at
http://www.twitter.com/cricketnation
and
facebook.com/cricketwireless
.
How to Get Muve Music
Muve Music is available on the
Samsung Vitality
,
ZTE Score
,
ZTE Chorus
,
Ascend II
and Samsung Suede at Cricket company-owned stores and at
www.mycricket.com
, as well as through select partner retail outlets. Additional accessories are available for purchase including premium headphones, an audio jack and Bluetooth adapter to connect to home and car stereos, either wired or wirelessly.
With the ever-growing Muve Music song catalog, customers can choose from millions of songs featuring the hottest artists from thousands of record labels, which are distributed through Universal Music Group, Warner Music Group, Sony Music Entertainment, EMI Music and global rights agency Merlin, as well as independents IODA and INgrooves.
For more information about Muve Music, visit
www.muvemusic.com
, and for Cricket's dynamic device lineup, visit
www.mycricket.com
. To follow Cricket's latest news and updates online, go to Facebook at
www.facebook.com/cricketwireless
and Twitter at
twitter.com/cricketnation
.
About Cricket
Cricket is the pioneer of simple and affordable unlimited wireless services with no long-term commitments or credit checks required serving approximately 5.9 million customers. Cricket products are available nationwide. Cricket offers wireless voice and broadband Internet services over the latest technology, high-quality, all-digital 3G CDMA2000 1X and 1xEV-DO wireless network. Cricket's nationwide wireless voice service plans include unlimited anytime minutes, unlimited U.S. long distance, unlimited text and picture messaging, unlimited text to Mexico, unlimited Mobile Web, unlimited directory assistance, as well as a variety of calling features and feature-rich mobile applications such as popular games, ringtones and wallpapers. For more information on Cricket, visit
www.mycricket.com
. Cricket is offered by Leap Wireless International, Inc., headquartered in San Diego, Calif. For more information on Leap, visit
www.leapwireless.com
.
SOURCE Cricket Communications
Email Cricket Communications