Ordinary Shop Vacuums Not Suitable for OSHA Combustible Dust Initiative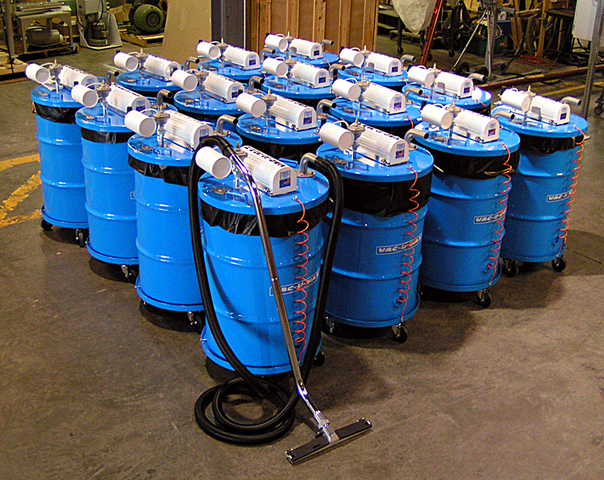 (PRLEAP.COM) Belleville, NJ,January 25, 2012 - Heavy duty industrial vacuum cleaners to control fugitive
combustible dust
should be suitable for use in Class II Div 2 areas. "Vacuum cleaners in particular are vulnerable to ignition and that is why there are only a few companies that know how to do that properly and VAC-U-MAX is one of them that does it right," says Bill Stevenson, VP of Engineering at Cv Technology and NFPA 654 committee member. "They take extraordinary care to make sure there is no chance for the product to come into contact with anything ignitable."
Vac-u-Max, the pioneer in industrial vacuum cleaning and pneumatic conveying since 1954, makes a line of combustible dust vacuums that are redundantly grounded and designed to be explosion proof vacuum cleaners.
Any time there is powder flowing in one direction through a plastic vacuum-cleaning hose it can create a significant static electric charge. In addition, there is the possibility that there may be static electricity build-up on individual dust particles. If a charged, ungrounded hose used to vacuum combustible dust powder were to contact an object that was grounded, the static electricity could then arc and trigger a violent explosion. This is why OSHA has issued numerous citations for using standard vacuum cleaners where Class II Div 2 equipment is required.
Beyond the fact that VAC-U-MAX's air operated vacuums use no electricity and have no moving parts, VAC-U-MAX
industrial vacuum cleaners
are redundantly grounded in five ways beginning with the air line that supplies the compressed air to the units.
Because most plants have compressed air lines made from iron that conducts electricity, the company's air operated vacuums use static conductive high pressure compressed air lines. In addition to the static conductive air lines, static conductive hoses, filters and casters are also employed to further reduce risk. A grounding lug and strap that travels from the vacuum head down to the 55-gallon drum, eliminates the potential for arcing.
Controlling the Explosion Pentagon
The explosion pentagon includes the three elements of the fire triangle, fuel (combustible dust), ignition source (heat) and an oxidizer (air), but needs two additional elements, dispersion of dust particles (in sufficient quantity and concentration), and the confinement of the dust cloud (vessel, area or building).
Catastrophic secondary explosions occur when the force from the primary explosion dislodges fugitive dust, producing more dust clouds, and creating a domino type effect that can cause further explosions.
Stevenson says, "the one thing you can do very simply and easily is to keep everything clean-it is as simple as that. If you clean the place up and protect your dust collectors, you've gone a long way toward minimizing the chance for an explosion even if you do nothing else and those are pretty straight forward easy things that everyone can do," he says.
If you are looking for an explosion proof vacuum cleaner or information about OSHA
Combustible Dust
initiative contact VAC-U-MAX about its line of heavy duty industrial vacuum cleaners, at 69 William Street, Belleville, NJ 07109; call 1-800-VAC-U-MAX (800) 822-8629 or (973) 759-4600; e-mail
info@vac-u-max.com
; or visit their website
www.vac-u-max.com
.