C. MARIANI ANTIQUES, RESTORATION & CUSTOM TEAMS UP WITH 1STDIBS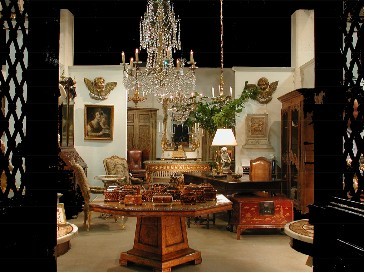 C. Mariani Antiques, Restoration & Custom
, one of world's leading wholesalers of 17th, 18th and 19th century high-end European antiques, has announced that it's inked a deal to join
1stdibs
, the largest online marketplace for fine antiques and other luxury items.
C. Mariani's 1stdibs storefront will also feature a link to its popular antiques blog,
The Buzz on Antiques
. The blog is an educational tutorial on all things antique, including styles, periods, shopping tips and the lexicon of the business.
Over the past 30 years, C. Mariani has become one of the country's most prestigious dealers in period antiques as well as handmade custom furniture. At its main gallery alone (it has a second location on Jackson Square in San Francisco) C. Mariani maintains a staggering inventory of more than 5,000 antique treasures that encompass the widest range of antiques including commodes, secretaires, bureaus, desks, dining tables, chandeliers, lamps, consoles, sofa tables, accessories, side tables, wine tables, tea caddies, center tables, credenzas, bedside tables, antiquities, fratino tables, and architectural elements.
And yet despite its size and reputation in the trade, few people outside the high-end design field have ever heard of C. Mariani. But that will all change with the company going "public" on 1stdibs.
Owner Claudio Mariani commented, "My business has grown based only on word of mouth among interior designers and architects. We've never advertised, never published a catalogue, we don't participate in antique or collectible shows, and we've never done any formal public relations. But we realize that it's necessary to evolve with the times."
Executive Director, Buzz Kaplan added, "We want to have a strong online presence in addition to our two brick and mortar locations in San Francisco. 1stdibs is the ideal venue to showcase our important antiques and reach out to designers and other professionals who may not be able to visit us in person."
Get a glimpse
of C.Mariani's 1stdibs offerings or to see their entire collection, go to their
Website
.
Email C. MARIANI ANTIQUES & RESTORATION