Win Pandora Jewellery in Jewel Hut Valentine's Competition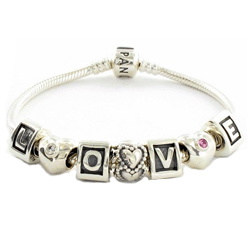 An online UK jewellery store is offering fans of Pandora jewellery the opportunity to win prizes from the popular brand this Valentine's.
The Jewel Hut, one of the UK's leading jewellery websites, will give away five prizes in total as part of a special competition this Thursday.
To be in with a chance of being a lucky winner, jewellery fans simply need to purchase any item of Pandora jewellery (no minimum cost) at any time on Thursday 09 February and they will automatically be entered into the prize draw.
Chosen at random, the winners will each receive a Pandora prize perfectly suited to next week's Valentine's Day.
One winning entrant will win the first prize of a Pandora L.O.V.E Complete Bracelet (RRP £290). Meanwhile, one first runner-up will receive a Pandora Love Heart Bracelet (RRP £90) and the final three winners will each win the second runner-up prize of a Pandora Silver Hearts Bead (RRP £30).
Pandora jewellery
continues to appeal to fashion fans from all over the world with its extensive collection of bracelets, beads and more. Since it opened its box of treasured jewellery in 1982, Pandora has become one of the bestselling jewellery brands of recent years and features items made from sterling silver, gold, glass and other quality materials.
Posing a great opportunity for Pandora collectors, the one-day-only promotion highlights Pandora's ongoing strength in allowing wearers to celebrate all those unforgettable moments. The brand's current Valentine's collection is available now at the Jewel Hut and offers shoppers just one option for entry into the prize draw.
The winning entrants will be selected on Friday 10 February and notified shortly thereafter by e-mail or phone. Only one entry is permitted per person during Thursday's promotion and entrants must be 18 years old or over and a UK resident.
Full terms and conditions can be found online at the website.
The Jewel Hut
is a specialist jewellery store and an authorised dealer of Pandora, as well as other popular brands including Links of London, Thomas Sabo and Tresor Paris.
For more information on Pandora jewellery and promotions, visit the Jewel Hut at
www.thejewelhut.co.uk
.