Local Upstart Coffee Company ArabicaDabra and Whole Foods Market Join Forces to Uplift Small Farmers in Developing Countries – One Bean at a Time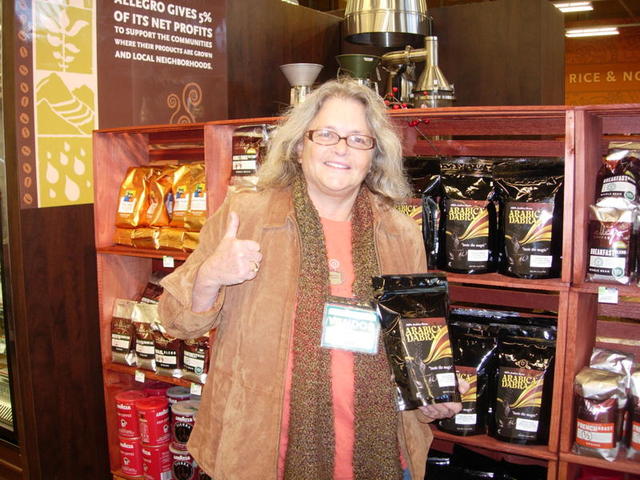 VAN NUYS, CA (PRLeap) February 10, 2012 –
ArabicaDabra Coffee Company
coming to
Whole Foods Market in Tarzana
(18700 Ventura Blvd.) this month. A series of
events
during the week of February 13 will celebrate the arrival of the company's full line of hand-roasted, sustainably farmed Arabica beans on the store's shelves. A portion of net proceeds from each bag will go directly to the small farming communities in developing countries from which the beans are sourced.
The
"coffee with a conscience"
business model comes from the passion of the company's founder and CEO Jackie Mendelson – a lifelong non-profit advocate who has spent nearly three decades helping victims of homelessness and HIV/AIDS in the U.S. and in poverty-stricken regions in Rwanda, Kenya, Zambia, Honduras and India. ArabicaDabra Coffee Company makes it possible to
purchase livestock, looms and other precious resources for the farmers
growing coffee beans in the source countries.
Mendelson's mission
to support micro-enterprise development and fair trade mirrors Whole Foods Market's core values – a "Whole Foods – Whole People – Whole Planet" philosophy. "We both have common goals when it comes to concern for the environment while providing the very best and freshest products," Mendelson says. "When you purchase our fairly traded coffee you strengthen our passion to support the sustainability of coffee growers that use environmentally responsible farming methods around the globe."
The choice to bring ArabicaDabra into Whole Foods Market was an easy one
, according to Tarzana store manager, George Khoury. "We share the same beliefs and vision for good business practices and how to best serve the community and growers. We both care about sustainability and how to make a bigger impact on the world. It was a natural partnership."
ArabicaDabra Coffee Company
is committed to buying cows and goats and bicycles with a portion of the net proceeds from the sale of its coffee. Contacts in all these developing countries assist
ArabicaDabra
in making this commitment a reality by finding just the right people that can benefit from such gifts. For information visit TastyMagic.com.
Email ArabicaDabra Coffee Co.