Is the world ready for Jewish E-Books? Jewish E-Books redefines the Jewish digital market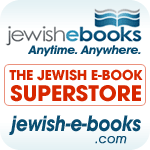 With the launching of Jewish E-Books in July of 2011, CEO Yosef Levy witnessed the fulfillment of a dream: a veritable paradise for Jewish booklovers. Now, looking back a half-year later, the innovative entrepreneur remains astounded at the wild success.
"The e-book market is exploding," he says. "And Jewish E-Books has become a part of it."
Jewish E-Books-the most extensive Jewish digital library to date-has built a literary empire of over 1,200 English and Hebrew titles of an assortment of genres, including Judaism basics, Jewish law, Kabbalah, biographies, Jewish history, and fiction, to name a few. Representing major Jewish publishers like Feldheim, Israel Bookshop, Jerusalem Publications, Aish.com, and Sichos in English, the E-Book giant's repertoire features bestselling Jewish authors like Akiva Tatz, Gila Manolson, Matityahu Glazerson, and Tziporah Heller.
"What makes us unique is that you can't get our e-books on any other site," explains CEO Levy. "We've got classic Jewish books for half the price of hard copy."
Jewish E-Book's Hebrew sister site,
www.j-ebooks.co.il
, boasts over 600 Hebrew titles-and has just went live with its one-of-a-kind Hebrew e-Book lending library.
But the e-book titan hasn't confined itself to the bookshelf: in a trendsetting move, the company recently kicked off its Jewish E-Magazines Department, starting with the AMI e-mag-the very first Jewish digital weekly-and the Comics eMagazine for kids.
A massive breakthrough in Jewish publishing, the unprecedented partnership between Jewish E-Books and AMI Magazine inaugurates an entirely new e-mag market, setting a new standard.
"At Ami, we bring readers from all segments of Jewry a high-quality, intelligent and informative publication," says Rechy Frankfurter, senior editor at the magazine. "As part of our aim to reach a larger and more diverse readership, we're excited to branch out with Jewish E-Books."
But more than just an e-commerce site, Jewish E-Books has used a cutting-edge business model to become a powerful marketing platform for Jewish authors and publishers. With a widespread presence on Jewish social media like Facebook and Twitter, as well its very own Jewish E-Books Blog-featuring fascinating author interviews and the latest news about Jewish books and everything Jewish, Jewish E-Books.com has become a hub of Jewish action and info, transforming the landscape of Jewish book promotion.
"We want to get the word out-big time," says CEO Levy. "We want every Jew and non-Jew-wherever they're located-to get the Jewish books they want."