McAllen Bariatric Surgeon Dr. Mario Del Pino Announces Website Update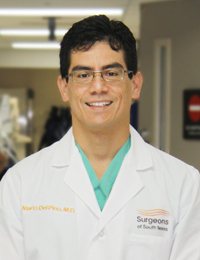 Dr. Mario Del Pino and the team of South Texas Lap Band are pleased to announce the release of the new version of their website, located at
www.southtexaslapband.com
. The changes represent a shift in Dr. Del Pino's overall marketing strategy to emphasize online marketing and Internet presence. Dr. Del Pino recognizes that today most patients research their surgeons and treatments online, which is why a comprehensive, user-friendly website is crucial for attracting new patients.
The website of South Texas Lap-Band offers concise descriptions of every treatment performed by Dr. Mario Del Pino. In addition, the website features before-and-after photos and video testimonials of actual
McAllen weight loss surgery
patients. The website also offers several convenient forms patients can use to sign up for bariatric surgery seminars, locate weight loss surgery support groups or schedule their appointments with Dr. Del Pino.
About Mario Del Pino, MD
Dr. Mario Del Pino is a thoroughly educated surgeon specializing in bariatric surgery. Dr. Del Pino has competed advanced training in bariatric surgery at the University of Pittsburgh Medical Center, and he has also received fellowship training in minimally invasive surgical techniques. As a result, Dr. Del Pino performs most bariatric treatments laparoscopically - through several small holes in the abdominal wall as opposed to one large, open incision. This approach reduces the risks of infection and bleeding, and it results in faster recovery times.
In order to help all of his patients achieve their weight loss goals and improve their overall health, Dr. Del Pino offers several bariatric procedures, including
Lap-Band
,
gastric sleeve
and
gastric bypass in McAllen
. Prior to recommending any treatment, Dr. Del Pino performs thorough consultations during which time he evaluates the patients' body mass index, overall health and psychological readiness for surgery.
Because weight loss surgery requires long-term patient monitoring,
Dr. Mario Del Pino
and his medical team offer comprehensive post-surgical programs that help patients maintain proper diet and exercise habits.
To begin your weight loss journey, schedule your initial consultation with Dr. Mario Del Pino today by calling his offices at (956) 631-8155 or by visiting
www.southtexaslapband.com
.