Synora™ Beauty Products Delight Celebrities at Academy Award Event on the Eve of the Oscars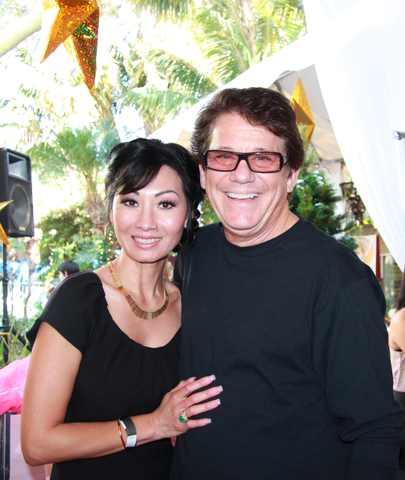 With their appealing mantra of: "Super Food for your Skin," Synora Beauty products (
www.synorabeauty.com
) took Hollywood by storm recently at a celebrity Gifting Suite honoring the 84th Academy Awards. A steady stream of the well-known, the celebrated, and the famous found their way to Synora's event table to try out "Eye of the Beholder," "5 in 1 Harmony Day Cream," and the arnica, apple and aloe vera infused "Neck Firming Gel."
"Oh, that's nice!" exclaimed one celebrity that was massaging generous amounts of Synora's soothing "Serenity Night Cream" onto her forehead and face.
"Wow. That has a little kick to it! I can feel it working!" exclaimed another recognizable person applying Synora's Wild Orchid "2 in 1 Seductive Lip Plumper."
"This smells absolutely delicious," exclaimed yet another upon sampling the "Therapeutic 5 in 1 Cleansing Milk" delicately blended with Manuka Honey, Mangosteen and Pomegranate.
There was plenty trying, applying and happy sampling as celebrities explored Synora's six product beauty line and recorded dramatic improvements in skin tone, appearance and suppleness. Synora™ Beauty's luxurious brand features natural ingredients renowned for their restorative, healing, hydrating and anti-aging benefits. Each area-specific product features a variety of antioxidant-rich, organic ingredients called "Exotic Naturals" which consist of proprietary plant and fruit fusions designed to reverse the damage of age, lifestyle and environmental stressors.
The Synora™ Beauty Collection also features Wolfberry, Avocado Oil, Sea Herbs, Safflower Seed Oil, Alfalfa Extract, and Exotic Mushrooms,
Synora™ products are formulated by certified natural product specialists in a US-based and fully registered FDA facility right in Southern California. Their beauty experts are well versed in the healing properties of organic ingredients and the natural, anti-aging action of select botanical extracts. For more information about their product line or to order samples call 1-800-440-2888 or go to their website at:
www.Synorabeauty.com
Email Outsource Marketing Group, Inc.