Karen Walker Sunglasses 2012 - At Eyegoodies.com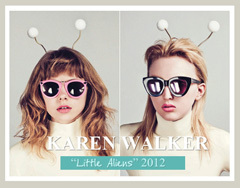 Karen Walker sunglasses
"Little Aliens" have touched down at Eyegoodies.com.
Fashion forward, chic, and always very wearable, Karen Walker sunglasses delivers an out of this world collection (pardon the pun). Seven completely new shapes are introduced, from a big round eye named "IRIS" – to a 50's-esque cat-eye named "TAXI", as well as several effortlessly cool designs in between. Each are available in a variety truly stunning and original colorways, from gold-foil prints, to embedded sparkles, to "tri-layered" colors, to the always popular signature "crazy tortoise".
"At the core of all of the
Karen Walker
collections their inspiration always comes in the form of an outsider, this season's Look Book is no different taking on the furthest outsider, aliens." Karen Walker
Among our favorite new pieces this season are the Karen Walker Anytime sunglasses. A classic cat eye shape that has been exaggerated in size and thickness, whilst the fit remains perfect for any size or shape face. Also fan favorite, the Karen Walker Number One sunglasses have been updated this season in the new "Vanilla Wood" color. The Number One is a well-fitting feminine shape that ties together many unique style elements. It features modern angular edges, a pulled up line, and Karen Walker's signature arrows adorning the temples.
Read More and shop Karen Walker sunglasses Spring/Summer 2012 at eyegoodies.com
Shop
Karen Walker sunglasses
Read more about
Karen Walker sunglasses