FonAngle expands their portfolio to offer Business Internet connections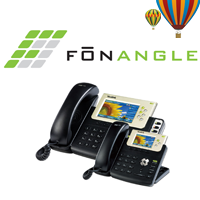 FonAngle Communications have added a Business Internet service to their product portfolio, a move sure to expand their share of the Hosted PBX /
business VoIP
market.
Reliable
internet service
has become mission critical in today's business environment, particularly considering the current popularity of cloud computing. By partnering with top-end providers, FonAngle has taken another step in the right direction: they can now offer their customers high quality, cost effective internet service to support their
Hosted Office Phone System
™ and FreedomSIP™ products, two of the market's most well-recognized business phone solutions.
"We know that internet connection strength is vital to the health of any business," said FonAngle CTO Chris Meyers. "When that connection carries your voice service, it becomes that much more imperative."
All of FonAngle's internet products are backed by strong Service Level Agreements. Customers can be confident they have a reliable service that delivers exceptional voice quality.
FonAngle delivers this service in a broad range of connection types, including:
DSL
Cable
T1-T3
Metro Ethernet
Fiber
Wireless
MPLS solutions are also available for larger businesses requiring high scalability.
FonAngle's trained experts will assess a business's needs and design a solution accordingly.
The company takes pride in its customer service, Meyers said. And they should: they are well reviewed by industry monitors and more importantly, their own customers.
"We get positive feedback from our customers on a daily basis," Meyers said. "An important part of our business comes from referrals by these happy customers. The decision to offer Business Internet comes from this philosophy of having pride in customer service. If we offer an integrated solution, we can ensure we're taking care of customers from end to end."
Over the past year, FonAngle has continued to prove itself innovative and able to adapt to the rapidly evolving business technology sector. This new product offering shows that they continue to be a company to watch.
About FonAngle Communications
FonAngle Communications is an award-winning Business VoIP leader for small to medium sized businesses. Their unified communication solution, "Hosted Office Phone System™ (HoPs)" is an enterprise class platform that combines voice, fax, instant messaging, presence, mobility, conference and web integration into one streamlined system. FreedomSIP, their SIP Trunking solution, is another business phone solution that promotes efficiency and flexibility; allowing customers to extend the life of their legacy equipment and benefit from huge costs savings. As a company focused on Quality, Support & Value, customers rave about how FonAngle increases productivity and saves them money. For more info please visit
http://fonangle.com