Nicaragua Real Estate Development Gran Pacifica Hosts Tsunami Skydivers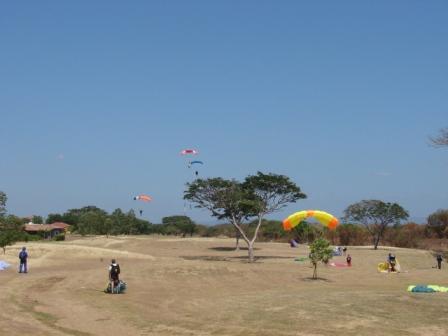 Tsunami Skydivers Founder Rich Grimm lit the smoke signals at Gran Pacifica to indicate a safe jump zone for 20 skydivers from all over the USA and Canada. With over 205 members of the group and 140 jumpers in all, it was
the largest skydiving exhibition in Nicaragua's history
. The jump consisted of a fly by at 12,500 feet to site the landing zone on hole number 3 of the Pacifica Golf Club followed by a 1 minute free fall and chute opening at 3,000 feet for a glide in and touchdown.
Rich and the Tsunami Skydivers have been Jumping into Ambergris Caye, Belize for the past 7 years and decided to try a new location.
Michael Cobb, Chairman and CEO of ECI Development with residential resort communities in Belize, Nicaragua, Costa Rica and soon Panama, was on hand to greet the jumpers.
"When we have resort guests with kids running out to see the skydivers exclaiming this is the best thing they've ever seen, it makes you know you've created a special moment and memory. Those kids will always remember the day at the beach with their parents when 20 parachutes of varying color opened in the sky above them and landed on the golf course. My business is about creating quality of life and memory heirlooms. With the help of Tsunami Skydivers and Rich Grimm, we hit a home run on Sunday," said Cobb.
About Gran Pacifica
Gran Pacifica
is a master planned community of over 2500 acres and 3.5 miles of Pacific coast line an hour west of Managua in Nicaragua. The company focuses on providing their international and domestic clientele with communities that feature first-rate amenities and infrastructure including underground utilities, paved streets and sidewalks.
Gran Pacifica's primary demographic is North American Retirees and vacation home owners who enjoy living in a robust beach and golf community. Gran Pacifica will continue to develop homes, condominiums and villas to meet the growing demand for a higher quality of life at a significantly lower cost.
For more information on Gran Pacifica, visit
www.granpacifica.com
or contact Mike Cobb at 011-505-2265-1137.