Shocking 85% more expensive to move home now than in 2009.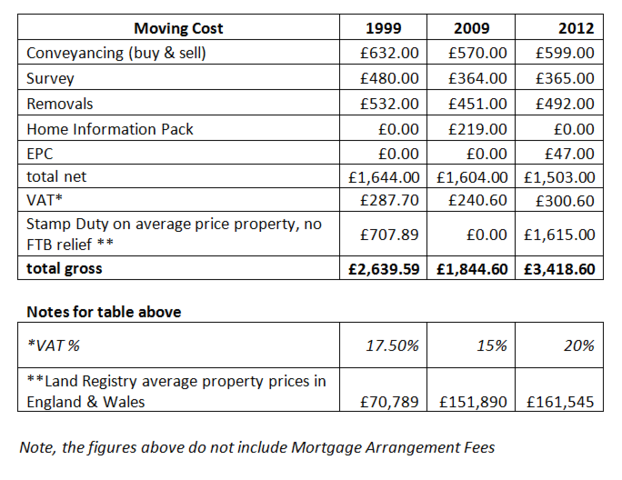 Average cost of moving home £1,574 more than 3 years ago.
LONDON: Research from
www.reallymoving.com
the UK's leading provider of instant online quotes for home-movers, shows that the cost of moving has increased by 85.4% in the past three years.
In October 2009, the average cost of moving was £1,844.60. This included the price of a Home Information Pack, but there was no Stamp Duty Land Tax on properties under £175,000 at the time and VAT was only 15%. Land Registry records show that the average property price in England and Wales in 2009 was £151,890.
Fast forward 3 years to March 2012, when the average property price is £161,545. The cost of moving has risen 85.4% to £3,418.60. The reasons behind this leap are:
a) First Time Buyers Stamp Duty holiday ending on 24th March 2012 so all purchases will incur Stamp Duty, and
b) the VAT rise to 20%.
Interestingly, the price of Moving Home services have not increased significantly in the past 3 years and many of the fees quoted are lower than 1999.
Rosemary Rogers, Director, reallymoving.com comments:
"The overall cost of moving is still lower than in 1999. However, it is of little comfort to home movers that the Government imposed taxes have made moving home significantly more expensive over the past 3 years. The companies providing the nuts and bolts behind the moving home services – conveyancing solicitors, Chartered Surveyors and removals firms – are clearly absorbing greater costs."
Notes to Editors
* Average UK house price on Land Registry records for England and Wales as follows:
1999 - £70,789
2009 - £151,890
2012 - £161,545
In 1999, 1% Stamp Duty Land Tax was payable on properties priced between £60,000 and £250,000.
In 2009, all properties priced under £175,000 were exempt from Stamp Duty Land Tax.
In 2012, properties priced £125,000 - £250,000 incur Stamp Duty Land Tax of 1%.
All other data compiled from quotes generated by reallymoving.com in 1999, 2009 and 2012. Prices are excluding VAT which is added separately according to the current rate. The figures are based on over 80,000 registrations each year.
About reallymoving.com
reallymoving.com was launched in November 1999, and has become the UK's leading provider of instant online quotes for home-moving services. The site provides instant quotes for a variety of services including domestic removals, surveys, conveyancing solicitors,
For more information visit
www.reallymoving.com
Media Contact:
Rosemary Rogers, Director, reallymoving.com 01727 238010 or
pr@reallymoving.com