Yves Rocher Launch a Detox Slimming Gel, an Innovative Revelation in the World of Slimming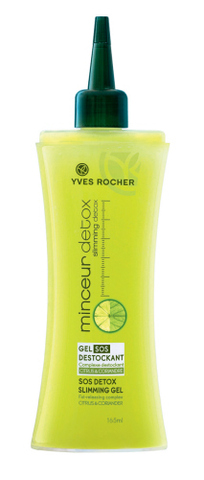 In an ideal world, everyone would be as lithe and slimline as the models and celebrities in the magazines and on the catwalks. There would be time to attend the gym regularly (and enjoy it) and it would be possible to live on a diet of salad and pinenuts all day long. Sadly for most people, this is just not the case. With busy jobs and an even busier family life, modern women already struggle to fit everything in and taking proper care of their health and figure can frequently become neglected.
For those struggling to find time to keep the weight off those stubborn fat-prone areas, French cosmetics brand Yves Rocher may now have a solution. Yves Rocher, who have been leading innovation in the natural
beauty products
sector for more than 50 years, have developed a ground-breaking new product, a topical gel called "SOS Detox Slimming Gel".
The product, which released in March, boasts to be "an effective detox treatment course to eliminate fat and refine (a woman's) silhouette". Differing from traditional slimming treatments or
moisturisers
, the product is a non-sticky and fresh feeling gel that penetrates* the skin with its 'melting texture'. Designed for targeted application, the product is intended to reduce fat around the stomach and 'saddlebag' area, the thighs and buttocks, the underarm 'bingo-wings' and any other areas where excess fat can develop.
The primary component in Yves Rocher's new gel are the plant extracts, Citrus and Coriander, known for their ability to spontaneously eliminate fat stored in the adipose cells. Horse Chestnut is the secondary extract contained in the product, used to eliminate stored fat through inherent fat draining properties. When combined with organic cornflower water and coffee extract (also known for its metabolism boosting effects), this grouping creates a targeted and highly effective fat busting gel.
Consumers will achieve best results by using the SOS Detox Slimming Gel over a one-month treatment course. The gel should be applied in a firm and circular motion to problem areas twice a day, as part of a regular beauty routine. Going by clinical trials, women** using the product can expect to lose up to 2.3cm*** from around the waist area after one month's application.
The
"SOS Detox Slimming Gel"
can help any woman regain control over her body, refine and reshape her figure, and rediscover a body she will feel great in again. In keeping with Yves Rocher's ethics and values, the product is packaged in cardboard from sustainably managed forests and printed in botanical ink.
For more information on the SOS Detox Slimming Gel, please visit the Yves Rocher site:
http://www.yves-rocher.co.uk/
*By permeating the outer layers of the epidermis.
** This product is not recommended for use by pregnant women.
*** Results observed on the waist. Average measured on 13 women. Average result: - 1 cm. Scientific test performed on 41 women after twice-daily application during a period of 1 month.
Email Digivate Ltd. - The London SEO Agency