New York Furniture Manufacturer Gothic Cabinet Craft Celebrates 43rd Anniversary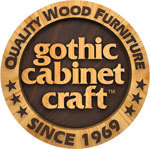 March 29, 2012, New York, NY – Gothic Cabinet Craft (
http://www.gothiccabinetcraft.com/
), a New York based furniture manufacturer, is celebrating its 43rd year in business this April.
Gothic was started in 1969 by Theodore Zaharopoulos with one store on the corner of 13th St and Third Avenue and has since grown to include 30 locations in the New York City area, as well as an online store with the ability to ship products to customers across the United States.
Mr. Zaharopoulos, an ambitious and talented cabinet maker, instantly recognized the need in NYC for well-made, ergonomic furniture. He designed hundreds of creative storage solutions for the small spaces so common in New York City apartment life. The Original Storage, Platform, and Captains beds were all developed by him and are now a common staple in all furniture stores. 43 years later, Gothic is the largest manufacturer of unfinished furniture on the East Coast. Gothic Cabinet Craft continues to preserve its values by manufacturing well-made, simple designs that continue to provide smart storage solutions for all home owners. Gothic proudly sells living room, kitchen dining room, home office and
bedroom furniture
designed for the unique needs of urban living.
Celebrating its 43rd anniversary in April, Gothic Cabinet Craft will be offering special deals on all of its
real wood furniture
products, including free giveaway items. These anniversary deals will only be available for a limited time only.
Aristidis Zaharopoulos, current President of the company, says, "We would like to thank all of our customers for their business and loyalty. It has been an incredible 43 years for this company and we could not have done it without our great customers, both in-store and now online. We promise to continue delivering the level of quality and service our customers expect from us and are looking forward to another 43 years."
Gothic Cabinet Craft is dedicated to providing the best service and shopping experience for its customers, both in-store and online.
About Gothic Cabinet Craft
How did it start? With the American Dream and a lot of hard work. Gothic Cabinet Craft (1-877-446-8442) was started in 1969 in NYC by a Greek immigrant who was determined to make it. With a focus on quality and affordability, our founder's designs evolved into practical storage solutions for urban areas. A family operated business, Gothic continues to offer high quality affordable furniture for every home. Too back this up, Gothic is one of the only furniture companies to provide a lifetime warranty. Now serving the entire US, Gothic is the largest manufacturer of
unfinished furniture
on the East Coast.
Email Gothic Cabinet Craft