ACOM's WebView Software Gets Positive Customer Feedback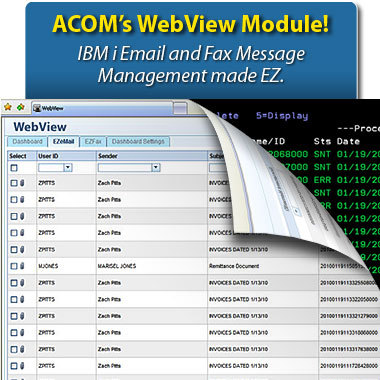 LONG BEACH, Calif., March 29, 2012 – ACOM Solutions, Inc. announced this week that customers are experiencing great success with its
WebView
software. Customers who send documents through the IBM i power systems (AS/400, iSeries, System i) find that they save time and money while improving work processes using WebView's browser-based dashboard to manage their email and fax messages.
ACOM's WebView software helps to speed and simplify
email and fax management
activities by enabling them in a web environment. Users can manage their fax and email message logs on a dashboard within their browser using a simple point-and-click interface, avoiding the need for green-screen interaction. WebView works in conjunction with ACOM's
EZeDocs/400
, email, fax and signature capture products.
"Since its introduction to our customers, WebView has generated the strongest positive feedback of any product we have ever introduced," explains Jim Scott, senior vice president, core business division for ACOM Solutions, Inc.
Scott believes that the success of WebView is attributed to two factors: it reduces the workload for IT departments; and it puts the power into the hands of the user – they are no longer reliant on IT departments to report back to the end user on whether an email was sent, had an error and so on.
In the case of one customer –
Grecian Delight
– a manufacturer and marketer of Greek and ethnic foods for the food service and retail industries – the addition of WebView module helped to relieve the burden of paper in their workflow and improved the quality of overall work processes.
"Our users love it," says Jerry Czupryn, IT Manager of Grecian Delight. "It saves them paper and time spent at the fax machine; and e-mails can quickly be confirmed at a glance. It also gives users a tool to access their own data and answer their own questions, giving control to their own issues. Demand for IT support has dropped dramatically since adopting WebView."
Grecian Delight employs approximately 125 people and the primary users are the customer care and purchasing departments and their credit manager. In the purchasing department alone they used to fax at least 15 times per day. In addition, Czupryn says the customer care and credit management departments sent an average of 70 faxes a day, then would wonder if the documents were successfully received. That has all changed since they adopted WebView.
"In the past you'd have a fax document and you'd have to sit there and wait," says Czupryn. You could sit there 5-10-15-20 minutes trying to send that one document. Our credit manager can now quickly locate an email with an invoice that was sent to a client, in case a client refutes having received it; and purchasing can quickly confirm any orders sent and track problems that may result," added Czupryn. "Now, you can actually go on WebView and know it went out, no ifs or buts about it."
To read the full story and hear what Jerry Czupryn has to say about his experience with ACOM, visit:
http://www.acom.com/cs-webview-grecian
About ACOM Solutions, Inc.
For more than 28 years, ACOM has automated document and payment processes for 4,000 plus organizations across all industries. ACOM's solutions integrate with any financial/ERP system to dramatically improve efficiency by automating manual paper-based processes. For more information, call: 800-699-5758; e-mail
sales@acom.com
; or visit
http://www.acom.com
For information about partner opportunities, call: 800-347-3638 x 4129; e-mail
partnerinfo@acom.com
; or visit:
www.acom.com/channels
.
Email ACOM Solutions, Inc.