Bathroom and Kitchen Wallpaper Collection Released by Graham & Brown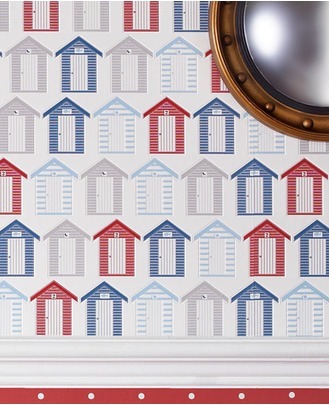 Vintage style is revisited with a splash of glamour for the modern kitchen and bathroom with the exclusive
Contour Collection
of wallpapers.
Designer wallpaper and decor company Graham & Brown released the Contour Collection exclusively online. With vintage and chic attributes, the Contour Collection was specifically developed to give kitchen and
bathroom wallpaper
a practical yet sophisticated appearance.
The new textured wallpaper collection features popular postcard landmarks, elegant floral trails and quirky retro inspired motifs. The Contour Collection has a vintage inspired color palette, including accents of pastel shades, striking monochromes and dusty pinks. Metallic, glitter and glossy highlights inject a splash of glamour, giving the wallpaper designs a stylish and sophisticated appeal.
"The need for modern and
eclectic wallpaper
is ubiquitous," said David Klaus, Direct Retail Manager at Graham & Brown. "We believe the bathroom and kitchen wallpaper designs included in the Contour Collection will fit our customers home décor styles."
Patterns in the collection include:
Keep Calm - this inspired tile effect is a great mantra for any kitchen
Beside the Seaside - add impact to any wall with these quirky rows of beach huts.
Dotty - pretty polka dot design in retro colors
Making a Crockery - stunning metallic highlights and Lustrous pattern infills from days gone by create a modern statement wallpaper
Sparkle - glitter embellishments accentuate the grout line creating a sophisticated and stylish small scale tile effect.
Housewives - this playful design captures the glamour of the 1950s and pays homage to the fashion of the time, featuring hand drawn ladies in 1950s dresses.
Flamingo - striking flamingo statement design in two fun color ways
Elegance - elegant flowing floral trail with a metallic mosaic texture.
Italia Tile - popular postcard landmark design with trend driven blocked color accents
Parsley - vintage inspired floral tile motif with metallic enhancements
The Contour Collection is designer wallpaper developed for the stylish modern home. Wallpaper featured in Contour is splash proof, making it ideal for a practical yet trendy kitchen and bathroom décor.
The release of the Contour Collection embodies the style and richness to which Graham & Brown customers are accustomed. Graham & Brown is a widely acclaimed
designer wallpaper
company whose mission is to inspire people to think differently about how they can create fashionable walls.
Please visit
www.grahambrown.com
for exquisite home décor.