Premier Dorm Room Bedding Retailer Decor 2 Ur Door Releases 2012 Girl Dorm Room Bedding Collections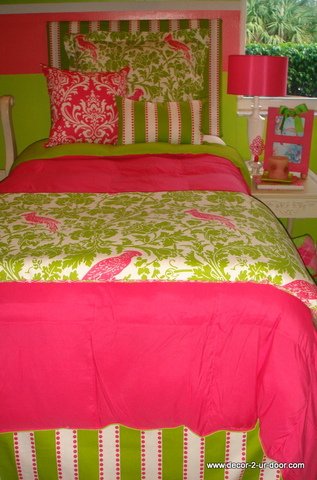 Décor 2 Ur Door
, the nation's premier dorm room bedding online retailer , enters its sixth year of providing unique custom dorm room bedding and dorm room décor products for college bound girls. With a 400% increase in sales for 2011, Decor 2 Ur Door is positioned for yet another exciting year with the release of 20+ predesigned custom dorm room bed in a bag combinations.
Décor 2 Ur Door's dorm bedding product line includes solid and custom T/TXL dorm duvets, custom headboards, TXL Egyptian cotton sheeting banded in coordinating fabrics if desired, custom shams and pillows, extended length bed skirts, custom closet and window panels, and custom chair covers.
Don't miss our popular removable vinyl wall art frames and monograms available in a wide variety of sizes, colors and fonts. Complete your custom designer dorm room look with Decor 2 Ur Door's matching storage containers.
Our exclusive sorority bedding line showcases 13 national sororities and allows girls to show off their Greek pride in style. Décor 2 Ur Door also offers trendy college spirit bedding in school colors. Our Lilly Pulitzer inspired custom bedding collections are perfect for girls who prefer the preppy look. Pair your bedding with our Lilly Pulitzer gift line collection offering stylish matching storage containers and magnetic boards.
We've expanded our market to include teen room makeovers, luxury master bedding, apartment designs, and nurseries. Select from hundreds of designer coordinating patterned fabrics and create your own one of a kind bedding. Our a la carte options allow you to select items for your specific budget.
Visit
www.decor-2-ur-door.com
and choose from a wide array of pre-designed, prepackaged rooms or customize a dorm room based on your individual tastes and preferences. Décor 2 Ur Door has everything you need to create a special room your daughter will always remember and a beautiful space to call home.
Robin D McDonald
Decor 2 Ur Door
561 371-8522