Cheap Industrial Vacuum for Combustible Dust Suck up Savings with Hidden Costs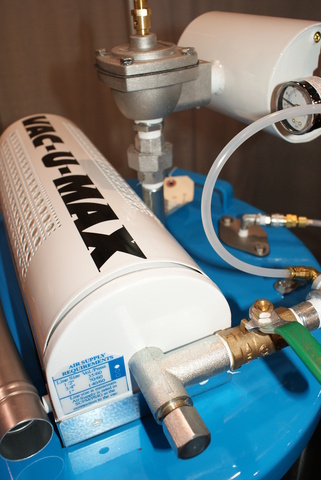 After spending tens of thousands dollars on dust collection equipment, those tasked with safety and/or housekeeping often seek out the cheapest
industrial vacuum
cleaning solution for handling fugitive combustible dust and spills, but cheaper in the beginning can mean increased costs in compressed air, filters, maintenance; and, quite frankly, diminished safety in the long run.
Safety
When investigating an industrial vacuum for combustible dust, safety should be the first consideration; therefore, it is essential that the air powered vacuum cleaner is produced with a bumper-to-bumper grounded and bonded design and those features are included in the price.
Often times cheaper vacuums lack equipment that provide bumper-to-bumper grounding such as such as static conductive rubber wheels, anti-sparking inlets, static conductive filters and static conductive drum liners that offer the highest protection in combustible dust environments.
The Fourth Utility
Most plants spend a significant amount of money producing compressed air. For this reason, it is essential to select an air powered vacuum that utilizes the lease amount of compressed air while still providing strong suction.
For instance, VAC-U-MAX, the pioneer in solving vacuum-related challenges in a wide range of manufacturing and industrial settings from powder coating and metalworking to chemical and pharmaceutical applications, uses just 35 CFM@60 PSIG while the price leader vacuum uses 60CFM@100 PSIG.
Using a conservative annual cost of compressed air at 10 hours per week at $0.50 per 1000CFM, the annual cost savings afforded by a VAC-U-MAX combustible dust vacuum over the price leader vacuum is $1014. In higher use environments, the savings in compressed air over a three month period can easily pay for the difference in cost between the two vacuums.
Filter Cost
Beyond savings in compressed air costs, buyers should also look for an
industrial vacuum
that utilizes static conductive washable filters over units that require replacements. Annual savings for a unit that utilizes a washable filter versus a unit that uses 6 replaceable filters is approximately $1250.
Maintenance
Often times when vacuuming spills and combustible dust in an industrial environment, filters can bind and lose suction. Cheaper vacuums require workers to lift the head from vacuums and tap the cake from the filter about every 20 minutes. Not only is this unsafe because it disperses dust back into the air, but workers often get frustrated and don't want to use these units.
Facilities should look for units, like VAC-U-MAX models, that include a pulse cleaning system, that with the push of a button releases the dust from the filter so they can resume cleaning.
There are other costs to consider when evaluating overall costs of an industrial vacuum cleaner such as the inclusion of local representation and expertise after the sale, vacuum equalizer kits, and static conductive polybag drum liners.
Buying a vacuum based simply on the cheapest sales price could easily end up costing more in the long run if safety features, compressed air costs, filter replacement and maintenance issues aren't considered.
For more information about combustible dust
industrial vacuum
cleaners or to learn about VAC-U-MAX pneumatic conveying systems, write to them at 69 William Street, Belleville, NJ 07109; call 1-800-VAC-U-MAX (800) 822-8629 or (973) 759-4600; e-mail
info@vac-u-max.com
; or visit their website
www.vac-u-max.com
.