The Event Team Announces "The Hungry Games" Corporate Teambuilding Spinoff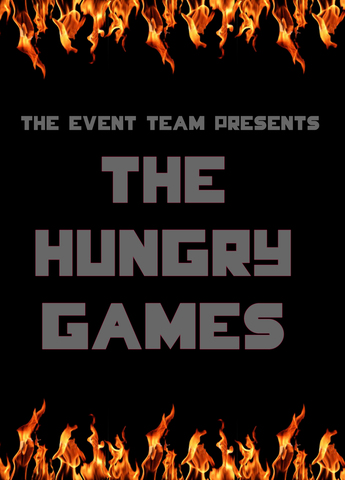 The Event Team is excited to announce a new culinary corporate teambuilding challenge based on the exciting themes and characters of the wildly popular Hunger Games book series and blockbuster movie.
Upon arrival, the group is divided into "Districts." (Each district will be provided with different colored fabrics to distinguish themselves from their competition, or to spark a higher level of competition before the games begin, teams can pre-select themes and costumes ahead of time).
Each district's station will be set up to enclose a playing field & "cornucopia" of supplies. Districts will begin the challenge with an identical amount of basic ingredients for their food preparation. Throughout the event, "tributes" will be randomly selected from each district to compete in a physical or mental challenge against the other districts. The winning district for each challenge earns not only team points, but also the opportunity to select additional ingredients and/or utensils from the cornucopia that will enhance their final culinary creation.
After the final challenge, districts will have additional time to create a demonstration that accompanies their mouthwatering masterpiece! Led by our blue-haired Master of Ceremonies, judges will come around to interview each district and taste their creations! These final scores will be added to the challenge scores, and a winning district will be crowned the Hungry Games Champions! "May the odds be ever in your favor!"
Culinary Challenge Examples: (selection based on venue accommodations & client preference)
Salsa
Sangria
Guacamole
Cupcake/Cake decorating
Hungry Games Challenge Examples: (Number of challenges depends on number of people/teams)
"Hunting" – (target challenge)
"Gathering" – (one tribute is blindfolded and must place designated objects in a basket using only their teammate's voices for guidance)
"Throwing" – (distance throwing and/or slingshot challenge)
"Mental Strength" – (puzzle challenge)
"Total Recall" – (trivia challenge)
"Empty Stomach" – (good old fashioned speed-eating)
Lindsay White, The Event Team's Director of Sales & Marketing (and self-proclaimed Hunger Games addict) is excited to incorporate this new teambuilding event into The Event Team's catalog of options. "Our culinary competitions are already pretty popular with clients, but this adds a whole new element of excitement and adventure," White said. She also joked, "If you get rid of the violence and death, themes from The Hunger Games actually lend themselves very well to corporate teambuilding."
If you're interested in hosting "The Hungry Games" for your company, contact The Event Team at 888-383-6888 or email
info@eventteam.com