Kevin Pietersen Signals Return to IPL with Delhi Daredevils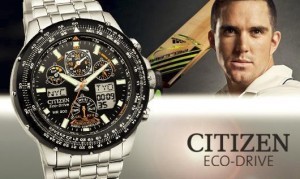 England cricketing ace and
Citizen Watches
ambassador Kevin Pietersen has revealed controversial plans to return to India to resume his career in the Indian Premier League cricketing series.
The star, who as well as playing in the UK for Surrey, has now signed a contact with the Delhi Daredevils to play in the fast paced 20/20 format that has taken the sub-continent by storm.
Amongst his new team mates will be Sri Lankan skipper Mahela Jayawardene. Both players topped the battings averages for their respective teams during the recent second test match, both teams got century's during the game. The deals marked the third and fourth transfer by the teams during the 2012 trading window.
The new contract for the
Citizen Watches
ambassador marks a return by the batsman to the IPL format. He was part of the Royal Challengers Bangalore outfit in the 2009 and 2010 seasons and captained the team for six of the matches in the first season. The 2011 season saw Pietersen bring his cricketing skills and
Citizen Watches
affiliation to the Deccan Chargers.
Kevin Pietersen – Quick Facts on the Citizen Watches Ambassador
Born 27th June 1980 in Pietermaritzburg
Known as KP
Right-handed batsman
Made international debut November 2004 vs. Zimbabwe
The new short term contract has proved controversial for England fans as Pietersen is set to be on Test Match duty for the national side for the series against the West Indies in May. There is concern amongst fans that the 31 year old player, who has also took part in England's earlier series against Pakistan, may be over-exerting himself. However, the South African born
watches
fan has brushed aside the concerns by commenting that he would be using practice nets for much of the time he will be playing for the Indian side and would therefore be subject to similar levels of exhaustion.
The Delhi Daredevils are currently, after two matches, standing in sixth place in the nine team league, but are expected to make a challenge for the title with their strengthened team.