DevHub's turn-key platform allows Small/ Medium business providers to offer managed websites, Facebook pages, mobile sites and more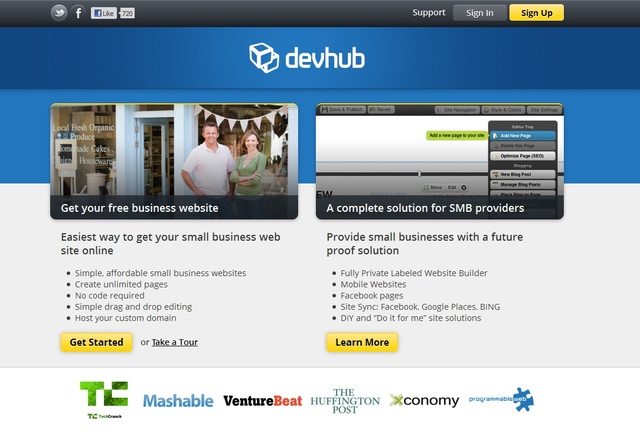 DevHub/EVO Media Group
, award-winning free website builder and private label platform, have partnered with Yellow Magic Incorporated to jointly introduce a complete turn-key web presence management system. The partnership enables customers to rapidly deploy new social, local, and mobile products bringing instant value to their service offerings.
Ron Mintle, CEO of Yellow Magic Incorporated explains why they chose the solution provide by the Seattle-based technology group, "DevHub is proven at scale, built to manage a large client base and is friendly with our clients existing systems. It's a very capable site creation platform and web presence solution that answers a Directory Publishers' need to bring additional value to their existing service offerings by bundling in a suite of proven web products."
DevHub, Publishers, and their SME customers, can easily manage brand messaging and business details across the web on almost any network or platform, from a custom mobile site to the business details on a Google Places page, and they can do it all from a single dashboard interface.
Sites can be up within minutes and can include video, photos, logos, maps, social sharing and emphasized Sam Pretorius, Director of Program Development for Yellow Magic Incorporated, "Publishers can monitor the results of their customers, and customers can monetize, manage and edit their sites for further success."
"No other company we reviewed offered this much ease of production with instant web presence, along with the critical local, mobile and social visibility features. We feel strongly that to compete and succeed in today's marketplace, SME's need a comprehensive presence in print and on the web," added Mintle.
About DevHub/Evo Media Group
The EVO Media Group is a venture-backed company that is dually headquartered in Silicon Valley and Seattle. Founded in October 2007, EVO's flagship website creation platform/ free website builder,
http://www.DevHub.com
, is now available as a private label platform. DevHub provides a one-stop solution for website creation, hosting, guided site-editing, revenue-generating tools, and online brand builder.
DevHub is a pioneer in applying gaming mechanics to previously mundane or difficult tasks via a process known as "gamification". The result is a lower barrier to entry, incentives to complete tasks on time, and a sense of fun.