Pre-Workout Product K-OTIC Remains A Worldwide Best-Seller Amid Recent FDA DMAA Crackdown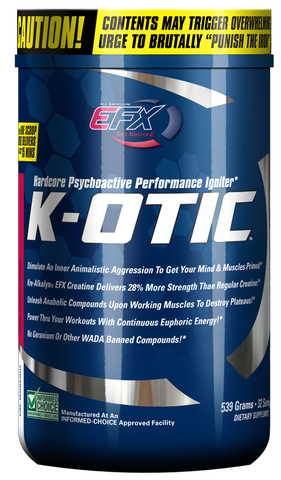 The FDA's recent official declaration to immediately cease using and distributing the ingredient DMAA/Geranium, found mostly in Pre-Workout products, is already sending shockwaves throughout the dietary supplement industry. However, sports nutrition company All American EFX isn't concerned. Why? Because their pre-workout formula K-OTIC™ is and always has been 100% DMAA/Geranium free. Despite this 'disadvantage' in such a highly competitive marketplace, sales for it continue to grow daily around the globe.
Brian Andrews, President of All American EFX states, "K-OTIC has NEVER contained DMAA/Geranium. Even though it was completely legal, we specifically decided NOT to formulate with it for two reasons. First, it's banned by WADA. We have numerous professional and Olympic athletes using our products, so it wasn't even an option. Second, we'd be going against our mission to 'help people build Real, Drug-Free Muscle'.
He continues, "Since K-OTIC is so effective, many people still have a hard time believing it's 100% DMAA/ Geranium-free. But, we have Certificates of Analysis to prove it."
A recent review in a leading industry publication also attests to the effectiveness of the formula:
"K-OTIC Has Become A Real Bodybuilding Game Changer:
When it comes to building muscle, training intensity is Mother Earth. Most bodybuilders lose energy during training which KILLS intensity! Over the years, in trying to get around this, many bodybuilders have tried varying pre-workout energy stuff, but those that did increase energy at all (sadly, very few), led to enormous post-workout crashes (as ephedrine did years ago).
Because they work with Olympic athletes, All-American originally (and determinedly) set out to fix those major flaws. They did so with very aggressive, innovative technology, successfully developing a product specifically designed for hardcore, sustained energy and drive for much greater intensity. The product has been a tremendous success for literally everybody and K-OTIC XPERIENCE is definitely an industry BEST of BEST to use for energy."
- Planet Muscle (May/June 2012)
Mr. Andrews concludes, "When we first formulated K-OTIC, we always knew a day would come when DMAA/Geranium would be banned… and now that day is here."
For more information, call 888-238-1864 or email:
info@aaefx.com
. Also, visit them at
www.aaefx.com
.