NC School of Massage explains the costs of a massage therapy program…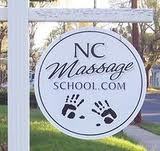 Massage Therapy programs and classes are quickly becoming a popular option for young adults looking for a new and exciting career. To receive official licensure as a massage therapist, the state of North Carolina mandates at least a 500-hour Massage Therapy program. There are some schools out there that offer much longer programs, which can be beneficial. However, look for the best school to fit YOUR needs, be sure to know all your options!
At the NC Massage School in Cornelius, the philosophy is to offer individualized training in the art and science of therapeutic massage. Courses include Anatomy and Physiology, Body Mechanics, Acupressure, Ethics, Somatic Psychology, Professional Development, and many more! Students will also receive a Neuromuscular Certification along with your diploma, all for a low tuition price of $7,925! The classes in our 650-hour Diploma Program take place in a small, supportive environment. The NC School of Massages' faculty has combined 30-years of professional experience, not including the 20-year management expertise of the Owner and Director Kristie Morgan.
Just hear what former students have to say, such as Stacy Baker, who writes, "I always felt I received the best massage education at NC Massage School and my career path has proven it. Thank you to you and your staff for a wonderful school experience that has only benefited and supplemented my career in exercise physiology."
The NC School of Massage is also a nationally approved to teach continuing education courses that are required by the state of North Carolina to maintain one's current license. Continuing education courses include: Thai Massage, Myofascial Release Techniques, Geriatric Massage, Therapeutic Chair Massage, Ethics, and many more!
Here are a few questions you should ask before enrolling in any massage therapy education programs…
What's the student/instructor ratio?
What is the school's MBlex Pass rate? NC Massage School is 96%. State of NC is 85%. National is 75%.
Is the school's curriculum a rolling platform? Meaning - does the school let students in each month? NC Massage School starts classes every six months. You start together and end together, with no-one starting in the middle of the program.
Whatever a student's need might be, when they graduate they will be able to treat those with sports injuries, arthritis, elderly patients, and those with back pain, among many other things. And the holistic approach toward education that is the hallmark of this remarkable school is certain to be the right fit, whatever the student's chosen specialization.
For more information, visit
http://www.ncmassageschool.com
, or contact the school at by calling (704) 896-2636. Drop by at the office at 20525 North Main Street, Cornelius, NC 28031. Send emails to
admin@NCmassageSchool.com
.
Email NC School of Massage