Palo Alto based Startup Launches Next Generation Internet Security Product SurfCanister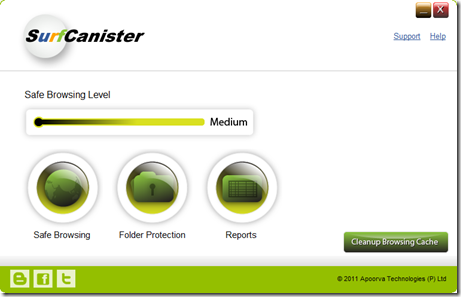 There are 55,000 new malware samples submitted by various organizations to AVtest.org every day. It is an extreme challenge for Antivirus companies to keep up with the sheer volume of malware variants. A common hurdle for typical Antivirus engines is the time lag between when a new malware comes out and the engine detects them. In this window, when there are no signatures, users are vulnerable and can be exposed to new viruses and Trojans (also known as Zero Day malware).
Sunil Shilimkar, founder of
SurfCanister
said: "Instead of traditional reactive security approach, users need preventive security. SurfCanister has advanced malware protection mechanisms that conventional Anti-virus software lacks. SurfCanister runs viruses and Trojans in an isolated environment and blocks malware from accessing users' confidential files and documents. SurfCanister does not need signature definitions or updates to protect a user's computer, hence users are protected 24/7."
According to a recent study published by Sophos, the web has become the biggest source for malware as more than 85% of malware is generated by it. For example, a lot of confidential information such as user's credit card number, social security number, and bank account user name and password are stored inside the web browser's cache. Spyware can steal such valuable information stored in user's browser or in other confidential locations on user's computer.
What SurfCanister does is isolate browser and operating system resources and provide a simple one click option to clean up isolated browsing data or operating system resources. This removes malware footprints as well as protects the user's identity by clearing critical stored information such as credit card number, social security number, bank user name and passwords.
In addition, SurfCanister's advanced protection mechanism automatically secures users' valuable data that reside inside My Documents, My Pictures, My Music folders and other personal folders while the user is browsing. The user may also select any other folders which may house his/her valuable or confidential data.
A one year free trial version of SurfCanister is available for protection against the latest threats lurking out there. SurfCanister is also offering a 25% discount on their final release to all beta users. Visit
download
the beta product.