Contemporary Wallpaper Retailer Graham & Brown Launch New Superfresco Easy Intrigue Collection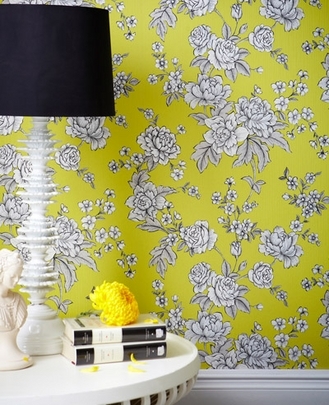 May 23, 2012 -
Contemporary wallpaper
style is brought to the modern home with the launch of the new Superfresco Easy Intrigue collection, available exclusively through the Graham & Brown online store.
The new
Superfresco Easy Intrigue collection
showcases a vibrant mix of floral patterns and contemporary styles for a sophisticated look. The collection features a bold color palette of lime, teal and rose, accompanied by complements of soft, neutral tones. Linear textured finishes and subtle metallic embellishments create depth and allure for the Superfresco Easy Intrigue Collection.
The collection is printed on Nonwoven paper, also known as
paste the wall wallpaper
, making installation and removal quicker and easier than with traditional wallpapers.
Kensington – This hand-drawn linear wallpaper features the quintessential English rose
Capri – 1950s inspired design boasts a clean and stylish look
Eternity – An organic, textured wallpaper that confidently stands on its own
Milly – A delicate, organic spring design adorned with a flash of iridescence and a textured design
Destiny – A smooth, fluid linear textured wallpaper
Metro – Masculine, urban striped design with tonal depth and a light linear texture
"We are thrilled to launch new Superfresco Easy Intrigue Collection," said Donna Riley, brand manager at Graham & Brown. "This collection enables our customers to quickly and easily change their homes with striking results."
The release of the Superfresco Easy Intrigue Collection exemplifies the stylish and rich design to which Graham & Brown customers are accustomed. As a global leader in wallpaper and decor products, Graham & Brown is recognized as a chic and creative source of influence for modern design professionals. Through a combination of innovative techniques and cutting-edge design, Graham & Brown aspires to help design professionals think differently about interior design projects.
Please visit
www.grahambrown.com
for exquisite home décor.