Beauty Doesn't Have to Fade: Attractive, Long-Lasting and Eco-Friendly: Engineered Materials Gain in Popularity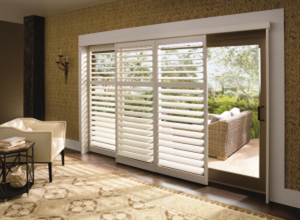 PEARL RIVER, N.J. – While aesthetics are important, most know that beauty fades but smart is forever. That's why when it comes to choosing everything from beauty and fashion to items for the home, the majority look for items with style and substance. Natural materials are often favored for the home due to the common misbelief that man-made items are unattractive, cheap-looking and short-term. The latest technologies, however, have opened the door to more advanced engineered materials, such as high-tech finishes and new surfaces that are longer lasting, easier to maintain and more eco-friendly and beautiful than earlier incarnations. Here are three smart new materials to consider for your home that give you lasting, sustainable beauty without breaking the bank.
Palm Beach™ Polysatin Shutters with the DuraLux™ Finish from Hunter Douglas
Proving that an engineered material means improving on a good thing rather than cheapening it, the leading name in custom window fashions, Hunter Douglas, has come up with a perfect combination of beauty, style and strength: Palm Beach™ polysatin shutters with the new, exclusive DuraLux™ finish. DuraLux is an advanced technology that creates a look that is virtually indistinguishable from a finely painted shutter. Providing a wonderful ambiance and the look of a high-end shutter at an affordable price, this new matte finish has a softer appearance and helps diffuse light rather than reflect it. Worry and maintenance-free, the finish is not affected by normal scratches, dents or dings because the color is permeated throughout the compound. Additionally, the new Hunter Douglas Palm Beach™ Promise ensures peace of mind and a lifetime of performance to guarantee that the shutters will never warp, crack, fade, chip, peel or discolor. They can be easily cleaned with mild soap and water and are also resistant to mold and mildew. On the green front, like virtually all Hunter Douglas products, Palm Beach shutters are GREENGUARD Indoor Air Certified®, GREENGUARD Certified for Children and SchoolsSM and listed for microbial resistance.
IceStone®
When it comes to countertops, one new material that is red hot as well as stylish and sustainable is IceStone®. Hailing from the Brooklyn Navy Yard in New York City, the surface is made of pre-and post-consumer sources including recycled glass, Portland cement and pigment. It is manufactured without any petrochemicals or resins, making it a safe, environmentally conscious and healthy choice for the home. This modern surface provides a unique three-dimensional depth and rivals the strength of granite. Available in white, grey, teal, yellow, red, tan, pearl, light and dark green, blue and even purple, the product has been used everywhere from offices for IBM, Campbell's Soup and Heineken to Equinox fitness clubs, MTV's "Real World Brooklyn" and residences and restaurants across the country.
Flooring
The flooring in a home can set the tone in a space. When choosing which material to work with, to combine your personal taste and concerns for practicality on this well-worn surface, there is now an easy option. If you prefer wood over linoleum, stone and ceramic tile but are concerned about the having to sand and seal it and that it can warp, cup or swell, there is an answer. Engineered hardwood flooring made of a core of hardwood plywood and a top layer of hardwood veneer is available in almost any hardwood variety from oak, maple, birch and pine to exotic species.
This multi-layered product comes pre-finished and has the natural characteristics of wood as the top veneer is made of the same genuine hardwood used in solid hardwood floors. Further, as engineered wood flooring typically has three or more core layers to provide stability, it is able to resist the warping, cupping or splitting that solid hardwood flooring typically experiences when exposed to prolonged moisture or heat.
With these modern, advanced materials, you can banish the notion of eternal beauty being just an illusion and create a stunning, healthy home on a reasonable budget.
Hunter Douglas, Inc., headquartered in Pearl River, N.Y, is the leading manufacturer and marketer of custom window fashions in North America and a major manufacturer of architectural products. The company is a national sponsor of Habitat for Humanity, covering windows in every Habitat home built in the U.S. and Canada.
For more information, call 1-800-274-2985 or visit:
www.hunterdouglas.com
.
Visit the Hunter Douglas Facebook at
www.facebook.com/HunterDouglas?sk=app_190009131096348
. Download "The Art of Window Dressing" iPad app at the iTunes App Store at
http://itunes.apple.com/us/app/hunter-douglas-the-art-window/id497716331?mt=8
as well as through a link on
www.hunterdouglas.com
.
CONTACT:
Sarah Fletcher/Kimberly Babcock
LOU HAMMOND & ASSOCIATES
1-800-742-3464; ext. 120, 221
sarahf@lhammond.com
;
kimberlyb@lhammond.com
www.louhammond.com
Email Lou Hammond & Associates