Buying Diamonds? OnlineDiamondBuyingGuide.com Helps You Make That Difficult Process Easy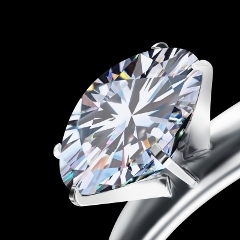 Do you know that the average man spends at least 3 months in order to shop for the perfect diamond proposal ring? Yes, that's a very long time indeed. However, it stands to reason when he has to make sense of the confusing advice offered to him in the course of making a huge purchase.
With more and more people turning to the Internet to search for information, Paul Gian, an ardent diamond shopper himself, has decided to develop and launch OnlineDiamondBuyingGuide.com with the aim of educating people on the process of buying diamonds.
The website is one of the leading resources featuring quality information that is both fun and easy to read. A key feature of the website details a step by step guide to choosing a diamond for the best value that your budget can get you. Interestingly, the website also consists of first-hand knowledge on the
4Cs of diamonds
(Cut – Carat – Color – Clarity) that most stores would NEVER tell you.
"The lack of understanding is the number one mistake that most consumers make when buying diamonds," said Paul. "And it doesn't help that most sales assistants aren't proficient in their product knowledge. Most are more concerned about making a commission off a sale to you than helping you select the perfect diamond."
Paul added, "Having been through the perplexing online research process myself, I was discouraged to note that there wasn't a definitive resource whereby I could get all my questions answered at a single place. That's when I decided to create this website whereby people could get their answers and communicate directly with me should they need further advice on questions they have."
Currently, the main website has a side navigation bar that categorizes content in a very accessible manner. New features such as a weekly featured diamond will showcase some of the best diamonds in the market coupled with an in-depth technical analysis. On top of that, a forum is currently under development and will be launched in near future. Visitors can expect a buzzing community of like-minded people discussing various topics associated with the precious stone.
When asked about the secrets to choosing diamonds on a budget, Paul said: "The price of a diamond is determined by the 4Cs and out of these grading characteristics; the
cut of a diamond
is of utmost importance. Paying a premium for the best clarity and color while skimping on the cut is definitely not a wise thing to do. Even if you have a flawless stone with the best color, a poorly cut diamond will be lifeless."
He went on to say, "Diamond prices increase exponentially at every half-carat marks. A smart shopper should 'buy shy'. For instance, instead of buying a 1 carat diamond, you should buy one around 0.95. The physical differences in dimensions wouldn't be obvious but the price difference is going to be substantial."
"The truth is, a smart diamond shopper should balance the 4Cs and aim for a sweet spot to accommodate his budget. To the untrained eye, a diamond with an IF clarity grading will look the same as another diamond with SI1 clarity grading. The same applies to diamond color. Diamonds that have a G or H color grading and eye clean SI clarity will give you the biggest bang for your buck," he concluded.
Of course,
choosing a diamond
goes beyond the 4Cs. The more knowledge you have, the less likely you would end up with buyer's remorse and overpaying for a piece of jewelry. So, for all you diamond shoppers out there who are having a tough time in buying diamonds, the new website will be a great place to start your education and diamond search.
Email Online Diamond Buying Guide