Chlorella Fella Launches Their Mid-Year Premium Chlorella & Spirulina Sale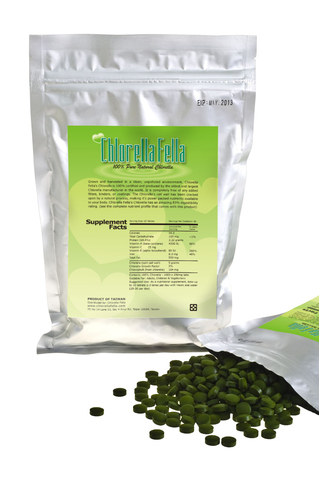 Taipei, Taiwan, May 28th, 2012 - The Chlorella Fella today announced that their mid-year sale is now on until June 30th. Customers are already taking advantage of a 30% discount off their 3kg packages of Chlorella and Spirulina. When asked about the generous discount off their products a spokesman for The Chlorella Fella said "We owe our customers a heap of gratitude for supporting us over the years and feel we should give back to them any way we can. How we do this is to give them the same premium quality product at a reduced cost. Not only does this save them money but allows them to supplement their diet more with this healthy, wholefood product. We all win!" -
http://www.chlorellafella.com/sale-sale/
Make no mistake, this is NOT a cheap product. Chlorella Fella products are grown in an unpolluted environment with lots of fresh air and sunshine. No chemicals are used at any stage of production and the cells are broken using a state-of-the-art method that enhances the digestibility to over 80%.
No binders, fillers or other additives are used in the production of our Chlorella and Spirulina. You get 100% pure product every time. We guarantee it!
Of course we know that talk is cheap so don't just take our word for it. Look what our customers have to say about us.
"My fiance and I both got into Chlorella about a year ago, and we have not stopped! Plain and simple, Chlorella has changed our lives. It is a constant staple in our everyday now. We plan on digesting it for years to come, and it makes us feel better in every aspect of life; our bodies, our minds, our eating, our sleeping, our exercise, on and on. Considering I will be purchasing this for many years to come, dealing with the Chlorella Fella is perfect because it is so simple to order at a great price and in such a great quantity. - Mike T. & Lena S. ~ Rochester, NY"
"Phil is a very kind and pleasant person. He truly believes in helping others become and stay healthy with Chlorella. Not only is he the "Chlorella Fella" he is a great fella to do business with. I personally want to thank him for his kindness and most of all his honesty. Phil, you are the best and so is your Chlorella. - Jerry C. Grant ~ Cookeville,TN"
Head on over to The Chlorella Fella and take advantage of their cool sale. You have until June 30th, 2012 but get in early because stocks are limited. You can get enough Chlorella or Spirulina to last you and your family for the whole year. -
http://www.chlorellafella.com/sale-sale/
About ChlorellaFella.com
Based in Taipei, Taiwan, The Chlorella Fella has been supplying premium quality Chlorella and Spirulina products since 2009. Their products are totally guaranteed to be free of chemicals, pesticides or any other additives. They are organically produced with the highest quality standards anywhere. The Chlorella Fella philosophy is getting a premium quality product into the hands of as many people as possible for less cost. That's exactly what they do.
For more information, visit
www.chlorellafella.com
.