Trim Nutrition Partners with IndyCar to Fight Obesity, Promote Fitness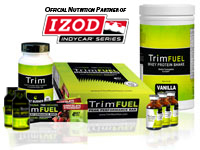 Trim Nutrition, a Florida based maker of weight loss products has partnered with IndyCar as their official Nutrition Sponsor.
TrimNutrition.com
provides quality vitamin and nutrient injections for weight loss as well as a variety of other nutritional products.
One in three adults and nearly one in five children in the United States fight obesity, according to the Centers for Disease Control and Prevention (CDC). These alarming statistics follow a 20-year trend of dramatic weight gain across the U.S. To help combat this epidemic, IndyCar has teamed up with Trim Nutrition to educate fans and drivers alike about fitness, nutrition and overall wellness.
As the official nutrition partner of the IndyCar family, Trim Nutrition will challenge fans to test their physique in 5K runs during the IZOD IndyCar Series and Firestone Indy Lights race weekends. They'll also offer post-run fitness and health assessments for fans, as well as free samples of Trim Nutrition's line of wellness products, including energy drinks, fuel bars, protein shakes, vitamin supplements and wellness packages. TrimNutrition's efforts extend to the drivers, as well, with pre- and post-race wellness analyses.
Exercise and nutrition are two important components to attaining optimum overall health, and as a recognized industry leader in the development and delivery of innovative nutrition supplements, sustained energy products, Nutrient Injections and wellness supplements, Trim Nutrition wants to offer their services to every member of the IndyCar family to help them establish and attain fitness goals.
Trim Nutrition is truly dedicated to teaching people how to maximize their health and live more productive lives. Trim Nutrition also recognizes that the strategy to optimum health is different for everyone, which is why the company has developed a range of programs, doctor-formulated products, wellness centers and online wellness communities that can help people lose weight, improve athletic performance, reduce symptoms of disease and illness – and even detox from drugs.
"Making Bodies Better' is our motto," said Trim Nutrition CEO Brent Agin, MD, "and as IndyCar prepares for the future with a new body style for 2012, it's logical that it would look to tune-up the series and its fans with a reinvigorated commitment to health and fitness."
Trim Nutrition is doing everything it can to live up to that motto. In collaboration with a team of clinical pharmacists, medical doctors, registered nurses, and research and development specialists, Trim Nutrition is constantly engaging with fresh research to improve upon its already-successful product line. In fact, Trim Nutrition's team of experts is living proof of the efficacy of the company's products and philosophy, as evidenced by their daily personal use of Trim® products in combination with a healthy lifestyle and proper nutrition.
Trim Nutrition has wellness facilities in Clearwater and Naples, Florida, and is supported by a network of physician associates throughout the country who are using the Trim® protocols. Trim® clinics offer a wide array of nutrition and weight loss services including B12 Injections. Trim Nutrition's headquarters is located in Clearwater, Florida, with more information available at
www.TrimNutrition.com
.