BEETLE YOUR WAY ACROSS MEXICO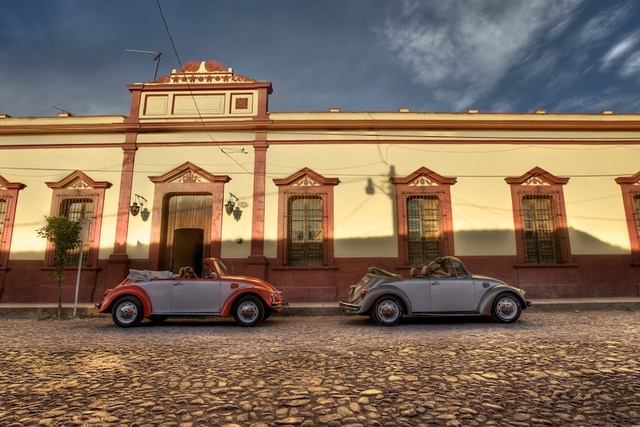 The Traveling Beetle air-cools its engines and travelers as they journey through Mexico.
Mexico City, June 26, 2012. If your idea of a great vacation is the freedom of the open road, exploring at your own pace and traveling without a care in the world, a new tour company may have the perfect formula for you.
The Traveling Beetle
offers new and seasoned travelers a novel twist to touring Mexico: vintage Beetle convertible road trips complete with your own tour guide and mechanic. Travel as a group or head out your own, either way your hotels are booked, your itinerary mapped out and a support team just minutes away.
The company offers a 7 day (6 night) Colonial Cities Tour which will have you discover some of the gems of Mexico's colonial past and gain valuable insight into the country's modern history and way of life. Or take the Pacific Tour which has you cross the Sierra Madre before you reach the teal–colored waters of the Pacific. For those of you with a little more time, The Traveling Beetle also organizes a wide range of custom tours to fit your budget and interests.
Restored with the greatest care, the cars you will be traveling in are air-cooled vintage VW Beetle convertibles. Each one of these legendary cars has its distinctive look and feel so you can choose the one that best suits your personality and driving style.
Stick with the group or venture forth on your own between each schedule stop and enjoy the joy of freedom and the comfort of security. So hop behind the wheel, spark the engine and gear up for your Mexican adventure.
About The Traveling Beetle
The Traveling Beetle was created with free-spirited travelers in mind as an alternative to group tours that offer little flexibility and traveling entirely on your own with the risks this may involve. As you travel to exciting destinations throughout Mexico in your own Beetle convertible, you will shape your trip as you see fit while benefiting from the company's logistical support including great itineraries, charming hotels, certified guides, skilled mechanics and 24/7 roadside assistance.
Email The Traveling Beetle