Illesteva Sunglasses - Available at Eyegoodies.com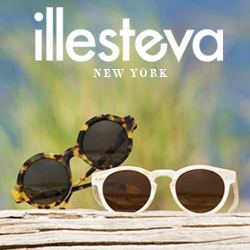 Illesteva sunglasses
are now available at Eyegoodies.com.
"Handmade in Italy, Designed in NY" is the philosophy behind New York based, ILLESTEVA.
Founded in 2009, Illesteva sunglasses take inspiration from downtown NY, as well as music, fashion, and photography, to put a distinctly contemporary spin on classic style. Working in concert with some of the leading eyewear manufacturers in Italy, France, and Germany, they seek to push normal boundaries of design by exploring fresh shapes, colors, and materials like acetate, wood, and titanium.
A stand-out style would have to be the Illesteva Leonard sunglasses. A signature and flagship piece from Illesteva, the Leonard is their take on a timeless P3 design. From sizing, proportion and fit, to design - its one of those styles which works extremely well on just about anyone who puts it on, man or woman. Available in a plethora of great unique colors.
In a short time Illesteva has amassed quite a following by both fashion insiders as well as just about anyone with a sense of style. Press for the brand include magazines such as Vogue, GQ, InStyle, Nylon…, and celebrity fans include Lady Gaga, Beyonce, Daniel Craig, Julia Roberts, Kate Bosworth, Alexa Chung, Kirsten Dunst, Sienna Miller…just to name a few.
With a wide range of styles and color options there is sure to be a perfect pair of shades for those sunny summer days. Illesteva sunglasses are now in stock at
Eyegoodies.com
.
Read More and Illesteva sunglasses at
www.eyegoodies.com
.
Shop
Illesteva sunglasses
Read more about
Illesteva